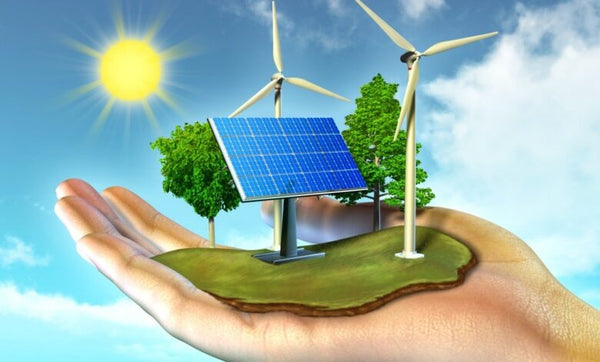 The Economy and Renewable Energy Outlook Post Covid-19 Pandemic
Renewable, clean energy is the best option for jobs and affordability in a post-COVID economy
We've were all thrown a curve ball in 2020. The renewable energy sector was no different.
The sector was expected to grow 5.3% in 2020. Based on per-pandemic baselines, this could have meant a total of 3.53 million jobs in the sector. But amidst the coronavirus pandemic, it has shrunk by 13.8%, leading to a deficit of 655,000 jobs compared with pre-COVID projections.
Despite pandemic woes, clean energies have generally fared better than their fossil fuel counterparts, outperforming in job creation and affordability. You can learn more about Why We Need Green Technology with this great article from our friends at GreenJournal.
Renewables and natural gas ring death toll for coal, but renewables may have last word
Coal and crude oil prices have dropped staggeringly since the early days of the coronavirus pandemic. They began to make slight recoveries near the time of the U.S. election in November, but are nowhere near the spot prices of a year ago. The Energy Information Administration projects crude oil will make a slight recovery for 2021, but will average less per barrel than 2020.
Another EIA report shows coal consumption in the power sector has decreased 30% since last year owing to decommissioning and retrofitting of plants and cost-savings of alternate energy sources.
Natural gas has enjoyed a higher spot price in early November 2020 than that time the previous year. Natural gas is likely to be a major player until around 2045, but on an apples-to-apples comparison, solar is killing the affordability game with fossil fuels across the spectrum.
Solar energy became cheaper than coal for the first time ever last year. According to the International Renewable Energy Agency, solar was 82% cheaper in 2019 than in 2010, reaching a fossil fuel-crushing $.068 per kilowatt-hour average (as compared to an average $.013 for U.S. residential power that same year, which is predominantly fossil-powered).
Data suggests coal will soon be pushed out of the U.S. energy arena entirely, and natural gas will fall from favor in the near future. According to an EIA report published early 2020, renewable energy will likely overcome coal and nuclear before 2025 and become the nation's primary energy source before 2050.
According to the latest U.S. Energy and Employment Report, coal has suffered a steep 18% decrease in use from 2015 to 2020. In 2015, coal and natural gas each produced 33% of U.S. electrical output. In 2019, natural gas had risen to 39% of total output, and coal has fallen to 24%. From 2016 to 2019, coal suffered the largest job losses in the industry, while new renewable jobs steadily rose.
In the meantime, renewable energy output has increased from 14% to 19%, with wind taking up the lion's share of new capacity. From 2015-2019, 177,000 jobs were added to the energy production sector. Though fossil fuel jobs are included in the count, the majority of early gains came from solar, then natural gas, then later wind and other low-carbon tech.
Directly related, the all-electric vehicle manufacturing sector has seen a healthy boon in new jobs, adding 36,000 careers from 2015 to 2019. This holds significance for the electrical production sector, as new all-electric vehicles will swap petroleum power sources and plug into the grid, potentially spurring additional clean energy growth.
Renewable energy's potential for coronavirus recovery
As nations across the globe lick their wounds from the coronavirus, International Energy Agency executive director Faith Birol urges nations to incorporate clean energy incentives in coronavirus recovery packages.
The International Renewable Energy Association recommends the same.
With the drop in value of various fossil fuels likely to continue for some time, renewables have stayed relatively steady, which should instigate fossil fuel industry investment in clean energy alternatives in order to safeguard their portfolios against increasingly risky fossil fuel assets. It would be wise to tap into the cost-savings, job production, and environmental benefits of renewable energies now rather than later, especially in the wake of the coronavirus.
Soon-to-be President Biden's $2 trillion renewable energy investment plan could be a solid springboard for recouping sector losses from the coronavirus and various tariffs while potentially creating hundreds of thousands of new jobs.
If industry trends continue to surpass estimates as they have in the past, it's likely the clean transition could indeed come sooner.