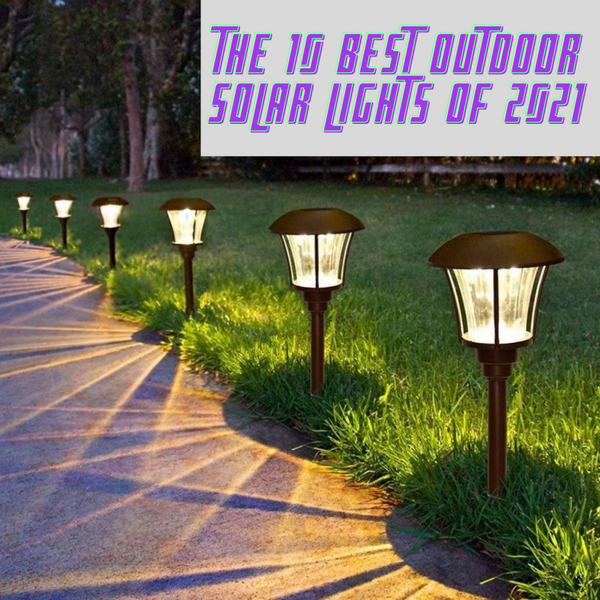 The 10 Best Outdoor Solar Lights of 2021
With 2020 in the books, it is time to take a look at what we believe to be the 10 best Solar lights for your outdoor space in 2021. At Solar Us Shop, we pride ourselves on the ability to source premium solar lighting. In this comprehensive list, we have picked out some of our best sellers, as well as some new products we are sure you will love! 
Our Top Solar Picks
To date, the Colonial Solar Powered Fence Post Caps by Classy Caps are one of our top sellers. Get a set of 2 for the low price of $59.99
New to 2021, the Nottingham Hanging Coach Light, is sure to be a customer favorite. Get yours for a price of $24.99 per unit.
Ward off intruders with this super bright solar security light by Nature Power, for the amazing cost of $99.99!
Brighten up your landscape with these powerful floodlights from Solar Goes Green for $199.99.
Easily mount this bright flag light to your flag pole and show off your patriotism for $89.99
70+ feet of solar powered string lights, available in multiple colors for every occasion, and available for the rock bottom price of $24.99 a set
Mount these Solar Coach Lights to a wall or post and enjoy the flickering flame element year around for the reasonable price of $152.00
Another great product from Classy Caps, get your solar deck lights in a 2 pack for $32.99
Control these large solar floodlights at your fingertips w/ the included remote control for $599.99
Mount these elegant Hampton style solar lamp lights to an entrance pole or wall for a classy look. Get yours for $79.99
Honorable Mention:
These solar garden lights can easily be placed anywhere by staking them into the ground. Get 2 outdoor lights for $29.99
These solar lights for chain link fence posts come in black or silver. Get 2 for the low price of $30.99
Outdoor Solar Lights are a great way to illuminate your landscape in an energy efficient manner. With easy DIY applications, Solar Us Shop's solar lights can easily be added to your home, backyard, patio, garden, driveway, garage, field, arena, or anywhere you may need some extra lighting. The ability to get power from the sun means no messy cords or cables, and you can place them pretty much anywhere that receives sunlight.
There's a reason these Colonial Style Solar Lights continue to be one of our top sellers. They can be placed pretty much anywhere, and their durable construction means they will last! These lights will light up every evening at dusk and last up to 12 hours on a single charge. Easy DIY plug and play style means you can easily place these on a post to illuminate your landscape.
Use Code: Colonial5 for $5 off your first purchase of these classy lights. Shop Now!
Light up your pathway with these elegant solar hanging coach lights. Easy DIY application lets you place and mount these hanging solar lights alongside pathways, gardens, or anywhere you would like to add a touch of light. These garden sheperd hook lights turn on at dusk and can last up to 12 hours on a single charge. Get your solar path lights today with FREE Shipping using Code: Freepath . Shop today!
These motion sensing solar lights will ward off intruders. Rest easy knowing any sign of light will be brightly illuminated in any area you need protection.The light sensor is sure to detect motion and illuminate your outdoor space. This solar light features 205-LED's and puts off 1,600 Lumens of bright light. This security light also features a flashing red light, which gives off the impression to potential intruders they may be on camera.  Get your outdoor light with FREE Shipping when you place an order today. Shop Now!
The Super Bright Series Solar Floodlights offer a wide variety of brightness settings. Choose your brightness setting of anywhere from 330 - 1320 Lumens. These lights feature easy DIY installation and can be used as flood lights for working outdoors or even as a security light. Made in America, these floodlights are truely durable with stainless steel outer protection and sure to stand the test of time. Get your solar powered light with FREE Shipping now! Shop Today!
Illuminate the beautiful American flag this 4th of July or any flag year around with this easy DIY solar flag pole light mounting kit. This flag pole lights provides super bright nightime illumination and runs up to 8 hours on a single charge. As with most solar lights, there is no need to worry about a nearby power source or messy cords and cables, as the power comes from direct sunlight.The flag pole mount is extremely durable and weather resistant, meaning it is built to last. Get your solar spotlight with FREE Shipping at Solar Us Shop! Shop today and save!

Have you ever wanted to light up your patio like the picture above? Now you can! These solar string lights come in multiple colors and can be used for any occasion such as parties, Holidays, Christmas, Graduations, Landscape Lighting, and Garden Lighting. Easy DIY installation allows you to place these solar string lights anywhere to be powered by the sun. Cut down on your electricity bills and awe your neighbors with the beautiul illumination provided by these bright string lights. Available in bright white light or several other colors. Shop today for your next special occasion!
Love the look of an old fashioned gas light? Now you can add this vintage feel to your landscape with solar and these solar powered coach lamp lights. The solar lights emit a beautiful warm light similar to a real flame, but you don't have to worry about being connected to a natural gas source. Simply place these coach lights in a welcoming location and be prepared to impress guests with the beautiful warm flickering light. Super lightweight, durable, and easy DIY installation allow you to mount these lights on a pole or wall. Includes easy to use remote control for easy on/off action and a rechargeable battery using the power of the sun to hold a full charge. Get yours today with FREE Shipping!
Imagine the soft warm light peaking through the clear stained glass of these handcrafted solar deck lights. The real glass lens will add a decorative touch to any outdoor patio or deck, and the DIY installation makes these solar decking lights easy to place anywhere you would like to add a small amount (10 Lumens) of relaxing light. Built with cast aluminum and a black powder finish, these deck rail lights are incredibly durable. Get yours with FREE shipping using Code: Freedeck at Solar Us Shop. Shop now!
Nothing makes adding light easier then the simple switch of a button on a remote control. We had the SGG-F156 Solar Flood Light in mind when we were thinking of the easiest security lighting solutions. Use this light as a floodlight or as added security light protection. These solar lights also feature a 9 foot extension cable from the solar panels, so you can easily hide the solar module out of view. Solar Light and LED bulbs charge during the day and turns on automatically at dusk or can be controlled with the easy to use remote control. Shop today and save at Solar Us Shop with FREE Shipping! 
New to 2021, Solar Us Shop is delighted to offer these beautiful Solar Hampton Style Lights. Easy DIY installation lets you place these on a pole mount or on a wall where light is needed the most. We even offer a solar pole mount kit sold separately, specially designed for the Hampton Solar Lights. As with all of our solar products, these lights are incredibly durable, built with strong cast aluminum. With 100 Lumens (2 lights = 200 Lumen), you can expect a beautiful bright light to shine through the decorative glass fixture. Shop now and save with FREE Shipping at Solar Us Shop!
You can easily line these up your sidewalk or place them in your garden. The connected ground stake makes them capable of being easily planted pretty much anywhere. These solar pathway lights produce 10 lumens and will last throughout the night. The LED lighting illuminates warm light, and the glass case lensing makes them the perfect accent for any landscape. Get your solar sidewalk path lights from Solar Us!
Chain linked fences are very common for backyards, and it can be very difficult to find any sort of lighting solution for mounting. With the Summit Post Caps, you can get a simple solution that also looks great! These cap lights are the perfect size for popping onto an existing post, and they fit up to 6 different standard post sizes. You won't have to worry about them not fitting or falling off on windy days. Like our other fence cap lighting solutions, the Summit's automatically turn on at dusk and will last through the night. They are available in either a silver or black finish to match your fence color.Shop now and save with FREE Shipping only at Solar Us! Just use code: SolarFree at checkout.
That brings us to the end of our Top 10 Outdoor Solar Lights of 2021 list! We hope you enjoyed this piece and we sincerely thank you for being a loyal reader and customer. Be sure to subscribe to our solar blog, so you can get the latest in solar, wind, and sustainability news! Additionally, if you are looking to add even more sustainability to your life, be sure to check out our vast selection of premium solar panel kits and wind turbine generators or drop us a line at support@solar-us-shop.com. We wish you the best of luck in 2021 and hope to see you around!
Solar Me. Solar You. Solar Us.