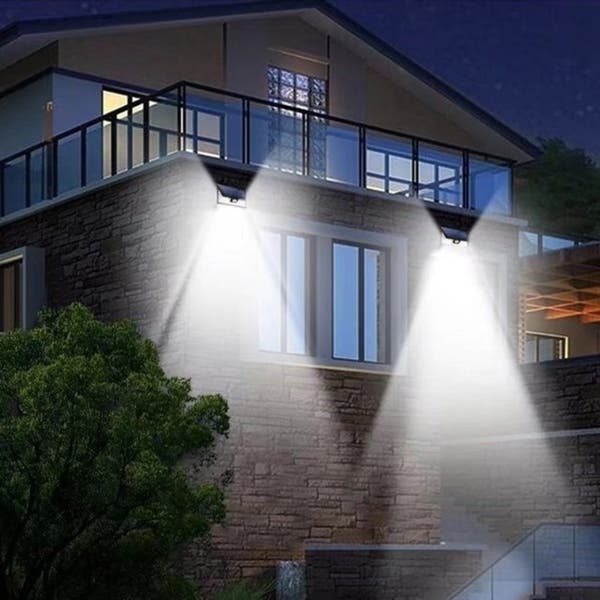 Solar Powered Security Lights: A Complete Purchasing Guide
Solar powered security lights are the best way to keep your property safe while minimizing your carbon footprint. Unfortunately, solar security lights come in many different shapes, sizes, technologies, and price ranges. Whereas it is tempting to save some money with a cheaper system, low priced items may not deliver the performance or reliability of other high-quality products. 
At Solar Us Shop, we are a team of sustainability experts focused on helping everyone adopt green technologies in order to save money and enrich their life. To help our customers conquer the somewhat intimidating decision of purchasing the right solar security lights, we've put together this comprehensive guide to make the process as easy as possible. 
What are Solar Powered Security Lights?
Okay, let's get some background here. Solar powered security lights can be defined as a single light or set of lights that are powered by solar energy and installed on a home's exterior. Solar security lights take advantage of the free energy provided by the sun in order to protect a home from potential unwanted visitors. Like all security lights, solar powered systems may be motion activated, sunlight response, operate on a timer, or powered with a remote control. 
Components of Solar Powered Security Lights 
Like we said above, outdoor solar security lights can come in all shapes and sizes. With that said, there are a few consistent components that must be included in order to classify a solar powered security light as such. In most high quality systems, the following components are included:
Solar Panels

Wiring 

Built-in Charge Controllers

Battery Banks

Lights (or Sets of Multiple Lights)

Infrared Sensors 

Mounting Materials

A Remote Control (Only for Premium Systems)
Obviously, all of these components are not included in every solar security system. Instead, many cheaper systems do not include proper mounting systems, remote controls or solar panels that can be wired and mounted separately from the rest of the system. 
Solar Security Lights Alternatives 
For properties that do not receive an ample amount of sunlight, home and building owners may have to explore different alternatives than solar security lights. Here, outdoor security lights can be purchased and run as a part of a home's existing electrical system. Although this will drive up monthly utility costs, traditional security lights are a good option as they can be integrated into a larger home security system. 
Beyond traditionally powered security lights, there are a few more alternatives that can be explored for property owners looking to protect their investments. These include:
Security Alarms 

Security Cameras

Vibration Sensors 

Buried "Invisible Fence" Systems 

Increased Door, Gate and Window Security 

Or A Really Good Guard Dog
Of course, solar security lights can always be added in conjunction with existing security systems. They generally do not take up much space, nor inhibit the installation of any other protective measures taken by the owner to protect his or her property. 
Benefits of Solar Powered Security Lights
When compared to the alternatives, there are many benefits of purchasing and installing solar powered security lights. More than anything, outdoor solar security lights offer a "set it and forget it" method for securing the perimeter of a home. Solar powered security lights do not require ongoing maintenance nor do they use any additional utility electricity to operate. 
Overall, here are the main benefits that solar powered security lights bring to homeowners:
Easy to Setup Systems

No Added Power Bill

Utilization of Green Energy

Possible Qualification for Local Sustainability Energy Rebates and Incentives 

Ongoing Home Security & Increased Night Visibility 

Functionality Regardless of Grid Power (Still Work During Blackouts)
Essentially, solar security systems are a great standalone way to add some light to your property during the evening hours. With the right system, outdoor solar security lights will pay for themselves when compared to the cost it would take to normally power traditional security lights. 
How to Choose the Best Solar Security Lights 
If there is one thing that should be taken away from this purchasing guide, it is this: do not buy cheap solar security lights. Although the price point may be attractive, home or building security is simply not an expense that should be taken lightly. Low quality solar security lights often yield low-power bulbs, poor battery life, and an overall ineffectiveness against possible intruders on your property.
For these reasons, an investment of a few extra dollars can guarantee a safer home perimeter and therefore ongoing benefit of safety. Because there is no "one size fits all" solution to home security, solar lights should be considered while examining the premium features that are most critical for the property. 
For individuals, the following factors should be considered when choosing the best solar powered security lights for a specific property:
Budget

Size of Property

Number of Lights/Lumens

Option of Remote Control

Time Spent at Home / Living Trends

Sunlight Availability / Option of Mounting Solar Elsewhere
Once you've taken into consideration your specific variables, then it's time to start comparing your options for the best outdoor solar security light system. 
The Best Solar Powered Security Lights in 2020 
Alright, now that we've covered pretty much everything there is to know about solar powered security lights, it's time to explore the best options on the market today. A simple Amazon search will instantly lead to dozens of cheap, low quality solar security lights, which can be tempting, but ultimately a bad choice. 
For this reason, we've put together the following suggestions for high quality outdoor solar security lights. Purchasing a reliable system will not only ensure ongoing performance, but a higher overall sense of security. 
Solar Goes Green - Solar Flood Light - F156-2R
Our first recommendation comes from a company called Solar Goes Green, who manufactures some of the highest quality outdoor solar lights available today. Their Solar Flood Light F145-2R package is perhaps the best overall solar powered security light system that money can buy. 
To start, the F156-2R is an industrial-grade flood light with 780 lumens shining from 156 bright LED lights. The LED lights are great for conserving energy and come with a 3 year warranty for guaranteed use. Because it is designed to provide light for parks and amphitheaters, the flood light's coverage area is recommended for fully illuminating 30 ft. x 50 ft. outdoor spaces. 
In terms of solar input, Solar Goes Green includes an efficient system for charging without driving up unnecessary costs. The 20W of polycrystalline solar panels are able to effectively keep the system's lithium ion battery charged in most sunlight conditions. 
Lastly, this solar security light comes with premium functionality. The F145-2R offers an optional PIR sensor that allows the system to operate as a motion-activated illumination system. With this installed, the flood light automatically turns on at dusk, runs for four hours continuously, and then switches to the motion-sensor mode before turning off completely at dawn. Plus, the unit comes with a manual on/off switch as well as a remote control. 
Key Features:
15 Feet of Waterproof Solar Wiring 

Automatic Turn On / Shut Off at night

Optional PIR Sensor

156 Extremely Bright, Energy Efficient LEDs 

3 Year Warranty on Lights
Learn more about the Solar Goes Green F156-2R
Solar Goes Green - Solar Powered Motion Security Light - PIR28 
For those who cannot afford an industrial level flood light (or simply don't need that much power on the property), Solar Goes Green has also created the PIR28 Solar Powered Motion Security Light. This spot light is great for illuminating small, outdoor or indoor areas and comes at a nice price tag of less than $100. 
The PIR28 comes standard with an infrared sensor that can detect motion up to 45 feet away. The light will automatically turn on when motion is detected, and will remain on for a preset amount of time, which can be adjusted.
This spotlight is made up of 28 LEDs, which are able to provide enough light for most small outdoor spaces around a building's entrances. The solar panels can be mounted up to 9 feet away from the spotlight, with the included weatherproof cable. The lights are guaranteed under a 3 year warranty. 
Key Features:
Extremely Affordable Option (<$100!)

Infrared Motion Sensing Between 30 and 45 Feet 

Adjustable Light Duration

Automatic Day/Night Activation

3 Year Warranty

9 Feet of Waterproof Solar Wiring 
Learn more about the Solar Goes Green PIR28. 
Solar Goes Green - RGB-54-2R
Lastly, we would like to showcase a unique and effective product from, you guessed it, Solar Goes Green. Yes, this reputable company also sells the RGB-54-2R model, which is a great, affordable flood light that comes with some seriously cool features.
Most importantly, the key feature of the RGB-54-2R is the bright, multi colored LED lights. RGB, in this instance, stands for "red, green, blue," as the system can display 11 different colors in addition to the standard bright white display. The system can be set to gradually cycle though or rapidly cross fade between the different colors.
Combined, the 54 LEDs provide a ton of light, no matter what color you choose. The system is powered by a "bat-wing" 11 Watt solar panel which is sufficient enough to charge the small lithium ion battery. Plus, the package includes all of the mounting materials necessary for the installation.
Overall, this solar flood light is great for those looking to add a little color (and security) to an outdoor space. The RGB-54-2R is bright enough to illuminate large outdoor spaces and comes with the added convenience of a remote control. So despite lacking a motion sensor, this flood light is sure to add a little zest for any holiday or occasion.
Key Features:
54-RGB LEDs

11 Colors, Strobe, Gradual Change, and Crossfade Options 

Included Remote Control  

Lithium ION Battery
Learn More about the Solar Goes Green MultiColor Flood Light. 
Conclusion 
Ultimately, we hope that this guide has helped answer any questions you may have had about solar powered security lights. In terms of keeping your home safe while maintaining a low carbon footprint, there are few better options than installing one or more solar security lights. 
Looking to explore your options even further? Feel free to check out our complete collection of the best solar security lights.