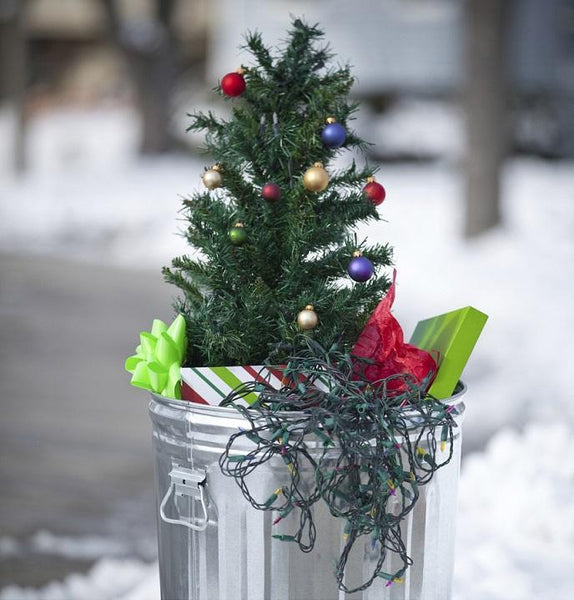 Tips to Limit Your Holiday Waste
Americans throw away 25% more trash during the holidays than at any other time of year. Where does it come from?
In total, families in the U.S. send 2.65 billion Christmas cards each year (picture a ten-story building, with each floor the size of a football field, full to the brim with seasons' greetings). If each family sent just one less card, 50,000 cubic yards of paper would be saved. If each family wrapped just three presents in reused materials, the paper saved could cover 45,000 football fields. What if each family reused just 2 feet of ribbon? That would save 38,000 miles of ribbon, enough to tie a bow around the entire planet!
Want to give the gift of a healthier planet this year? Here are some simple ways to reduce, reuse and recycle during the holidays.
Hosting Tips
You can throw an amazing party without generating excessive waste or exhausting yourself.
Cook with sustainable ingredients like organic meat and produce, sustainably sourced seafood, or produce grown locally or semi-locally.
Not up for washing tons of reusable dishware? Serving meals on compostable plates and using compostable utensils can still significantly shrink your environmental footprint.
Label your compost and recycling bins clearly, to make it easy for your guests to use them correctly. Use compostable and biodegradable trash bags to minimize waste even further.
Bring reusable bags when you shop for groceries, party décor or gifts. Keep some handy in your car or in your bike bag so they're easy to remember. Even if you forget your bags, you can make a difference by combining purchases from different stores into one bag, instead of getting a new bag at every store you visit. Thousands of bags wind up in landfills each year, so every little bit helps.
Gift-Giving Tips
Reduce waste and give meaningful gifts by getting a little creative.
Look for cards made from recycled materials. Better yet, make your own cards from paper you normally would have thrown away. 
Give gifts that leave little-to-no trace. Think tickets to concerts or sporting events, valuable services like babysitting, a CSA membership to support local growers and eat seasonally, or a donation to a charity on a loved one's behalf.
Find clever, original materials to wrap your gifts. Instead of disposable gift boxes, use decorative tins, reusable boxes, or baskets as an alternative to disposable gift boxes. Instead of wrapping paper, use maps, newspapers, pages out of magazines, or posters. Instead of bows, use reusable cloth ribbons.
Save the paper, bows and ribbons from gifts you receive. You can reuse them next year or throughout the year for birthdays and other festive occasions.
Decorating Tips
Yes! It is possible to keep your home both festive and environmentally responsible.
Branch out with your tree choice! Save money and reduce waste by purchasing a reusable synthetic tree, or – if you're hopelessly in love with the smell of pine needles – try purchasing a tree that can be re-planted.
Check with your community solid waste department for a local tree composting program. You can probably find a place nearby that will help turn your tree into mulch.
Light up your home with solar powered LED lights. Solar powered holiday lighting is safer, more convenient, and more cost effective than electrical alternatives.
There are so many more ways to limit holiday waste without limiting your joy and cheer. Check out these resources for more suggestions:
Frequently Asked Questions: Holiday Waste Prevention https://lbre.stanford.edu/pssistanford-recycling/frequently-asked-questions/frequently-asked-questions-holiday-waste-prevention
Go Green for the Holidays                      
https://blogs.cdc.gov/yourhealthyourenvironment/2018/12/10/go-green-for-the-holidays-2/

Reduce, Reuse, Recycle: Greening the Season https://www3.epa.gov/region9/waste/recycling/