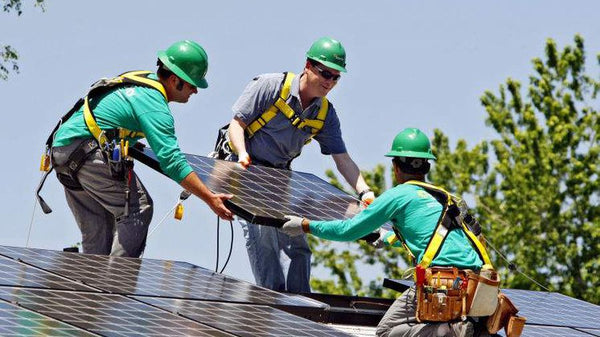 Working in the Solar Industry in 2023
Have you ever wondered what it would be like to work in the solar energy industry? 
Well if you aren't one of the hundreds of thousands of people who are actively doing so in the United States today, exploring a career in solar is now easier than ever before. 
Over the last few decades, solar power has experienced massive growth in the US, in terms of both capacity installed and industry size. With a wide variety of roles that support residential, commercial, and utility-scale development, the Solar Energy Industries Association estimated that more than 255,000 Americans worked in solar in 2021.
With our eyes set on a sustainable future, in this article, we'll look all around the solar industry to help you decide whether or not a job or career in renewable energy is right for you! 
Solar Energy Career Paths 
Today, the world of solar offers opportunities for many different kinds of employment, including full-time, part-time, and contracting roles with little or no experience required.
While there are plenty of solar-specific jobs (i.e. PV system installers), the industry is also supported by many connected industries that incorporate the technology, such as sustainable construction, carbon crediting, and consumer products. 
Science and Engineering
At its core, solar energy is all about science and engineering. Every advancement that has made modern solar technology possible is thanks to the scientists and engineers that have developed, tested, and deployed solutions for efficient power generation and distribution. 
Outside of the chemists, physicists, and materials scientists working behind the scenes, engineers are assisting solar installations in many different capacities across the country.
From software engineers designing PV systems to electrical and industrial engineers monitoring and managing energy performance, there are plenty of careers in solar suitable for anyone with a passion for mathematics, science, or technology.      
Manufacturing and Distribution
Bringing technology out of the laboratory and into the open market, there are also many solar jobs in manufacturing and distribution. From tiny startups to large companies with massive manufacturing facilities, there are many different kinds of businesses that create and deploy PV system parts, including panels, inverters, batteries, wiring, installation materials, and more. 
Within the production of solar equipment, there is a wide range of occupations present in the design and assembly process. This includes employment opportunities for welders, glaziers, machine operators, production managers, and other manufacturing professionals interested in bringing their abilities to the solar industry.   
Construction 
Of course, one of the most popular and important realms of the solar industry today is construction. To make safe, renewable energy possible, every solar array must be installed by a team of experts, including laborers and electricians or plumbers for PV or thermal systems, respectively. 
On top of the physical installation process, solar energy companies employ logistics and construction managers who may be responsible for everything from sourcing parts to dispatching labor teams.
Solar construction experts can specialize in residential or large-scale systems, with many opportunities for hands-on and managerial roles. 
Solar Sales & Marketing
Last but certainly not least, there are many jobs in solar sales and marketing that give people the opportunity to help others join the renewable revolution. Especially present at the residential and small-scale commercial levels, solar energy companies need people who can generate leads and close sales in order to stay in business and grow as an organization.
From door-to-door appointment setting to product-specific digital campaigns, the sales and marketing arm of solar is very important to support its widespread adoption. 
Salaries for Solar Energy Jobs
Salary.com estimates that the typical compensation range for someone working in solar energy is between $63,199 and $74,591 per year, with a median annual income of $67,843.
The average pay for a solar panel installer is $23.47 per hour, with many opportunities to earn overtime for jobs that involve driving to and from work sites. 
While entrepreneurship and business ownership are always an option for motivated individuals, a few of the highest-paying jobs in the solar industry include:
Solar Energy Sales Specialist - $30,000-$78,000 per year

Solar Design Engineer - $45,000-$79,000 per year

Solar Project Engineer - $74,000-$102,500 per year
The Future of Solar Power
After a decade of massive growth, the major solar power boom of the 21st century was dramatically affected by COVID-19 along with many other industries.
Thanks to the passing of the Inflation Reduction Act of 2022, however, solar installations are expected to grow 40% more than predicted forecasts for 2027 with the extension of federal tax incentives for PV systems. 
Although California's new NEM 3.0 policy has been viewed as a step backward in the country's largest PV market, CA's new solar construction laws and electrification efforts guarantee that the state will sustain continued growth in renewables in one form or another. 
For now, of course, solar seems as if it is not going anywhere, and there are many people around the world who still envision a solar-powered future.
Whether or not you decide a career in solar energy is right for you, there are still plenty of opportunities to get involved in its development, by adopting solar at home or supporting efforts that make it possible for underserved communities.  
In the meantime, to put the power of the sun in your hands today, feel free to check out all of the solar-powered products currently for sale in the Solar Us Shop!