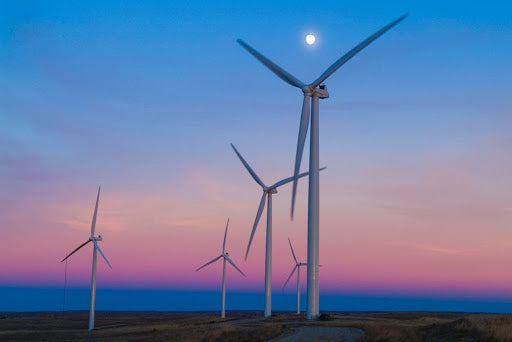 A Look at the U.S. Wind Energy Industry Amidst COVID-19 Pandemic
Wind energy soars despite headwinds from politics and COVID-19
Wind is the largest source of renewable energy in the country, producing 24 percent of the nation's renewable energy capacity, or around 10% percent of the nation's total electrical output. According to the U.S. Bureau of Labor Statistics, wind and solar jobs are the two fastest growing occupations in the nation. Wind turbine service technician jobs saw 57 percent growth in 2018 with an average salary of $54,370 a year. Wind supports 120,000 American jobs, employs people in 530 factories, and contributes $1.6 billion to the economy every year.
Leaders in the clean energy sectors aim to increase wind energy to 20 percent of the nation's electric capacity by 2030.
Despite uncertainty resulting from COVID-19, wind had a win in the first quarter of 2020 with over 1,800 megawatts of new wind capacity and setting a new quarterly record in new construction projects. Wind appears to be gaining breezy momentum, with new installations in the first three months of 2020 more than double that of last year's quarter. All in all, new wind capacity in the first quarter of 2020 will power 560,000 American homes.
Still, the COVID-19 pandemic has taken a bite from the soaring industry. According to the AWEA, the coronavirus pandemic has put 25 GW of new wind projects at risk, a $35 billion investment, as well as threatening over 35,000 jobs. Rural communities will be hit the hardest, where 99 percent of wind projects are located.
Protecting worker safety and jobs is the clean energy sector's top priority during COVID-19. The wind sector is pushing for Congress to extend investment and production tax credits to employ additional workers and ensure continuation of planned wind projects.
"We have ample evidence to demonstrate that these tax credits create billions of dollars of private investment and generate tens of thousands of jobs," reads an industry statement to Congress.
The U.S. Wind industry supports over 100,000 jobs across all 50 states. Many of these workers are employed at the 530 factories nationwide producing wind-related components and materials. COVID-19 isn't the only threat to these jobs. The AWEA estimates new and existing tariffs could eliminate almost a quarter of these jobs, nixing 21,000 salaries from the sector in the coming years.
The wind manufacturing sector has had economic and political setbacks since its impetus. Several tariffs on Chinese goods and materials have existed since the 70s and 60s. The Trump Administration has issued further tariffs on Chines goods directly affecting wind turbines and their components in 2019. Furthermore, imported wind towers could face another set of duties. The combined impact of existing tariffs and proposed import duties could increase turbine costs up to 28 percent.
"The proposed high and sweeping tariffs on products and component parts utilized in wind energy development will substantially increase the cost of doing business for U.S. wind energy developers," says a recent AWEA document.
These tariffs not only affect imported turbines and components, but units manufactured here in the United States. Most turbines are imported, with a few large companies producing wind components on U.S. soil. Of these, General Electric holds the lion's share of new installations (43 percent in 2015, the most current data available from the U.S. Government). Next in line are Vestas and Siemens. GE produces both blades and generators in the United States, with Vestas producing blade and tower components in America.
The AWEA attests tariffs and duties will place a hefty imposition on current and future U.S. manufacturers. Ironically, the tariffs designed to spur U.S. production are doing little more than building reliance on imports, all the while driving up prices and discouraging U.S. manufacturing.
The wind industry is calling for the elimination of tariffs and duties which discourage wind development, a plea all the more urgent in light of COVD-19 setbacks. Regression due to the coronavirus pandemic and an administration staunchly opposed to wind energy are the most pressing impediments the industry will face in the months and years ahead.
But record-breaking first quarter growth means wind energy is gaining massive traction. Massive development and growing
public support
attest to wind's stature in the U.S. energy portfolio. If wind can survive, and thrive, during a pandemic and hostile political environment, it is poised to become a power player in U.S. energy production.