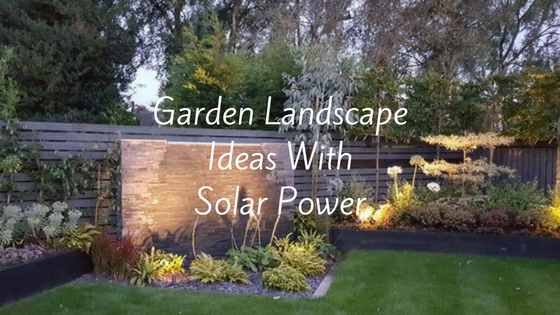 Garden Landscape Ideas With Solar Power
Gardens are beautiful. They can give your home an attractive outlook, and beautify your immediate surroundings while also providing the environment the nutrients its need to keep our lives in balance. Adding solar power is not only great for the environment, but has become extremely affordable. Creating a beautiful garden takes a lot of work, and you want to make sure it can be admired in the light and the dark. Without the proper plan for some garden lighting you are cutting the beauty of your garden short. We believe it is essential to keep your yards and garden areas illuminated at all times.
Wondering how?
We have devised a solution to that question. If you are wondering how you could best do this, then you need not worry, because this article is dedicated to showing you how to adequately light up your garden at all times and in all seasons and the things to consider before choosing a garden light.
Garden Lighting Ideas
We would like to categorize these into three broad headings:
Outdoor bulbs/lights: Outdoor lamps come in varieties; this can keep your garden and yard areas view-able at night. The interesting part about this category is that they could also function as landscape decoration. You can attach these outdoor lights to outside walls, poles, and shades or you could simply fasten them to the ground.
Outdoor pole lighting: you could design your garden with Solar Power LED Lights. You can install these in the on the sides of natural fence poles and use them to illuminate the pathways however you want.
Christmas lights: Christmas lights are always handy for lighting up the night during the holidays, and they also make excellent garden lights and decoration year round. Solar string lights are great for creating a beautiful ambiance and providing you with security lighting in all seasons.
Use Outdoor Solar Lights
You should invest in solar lighting and solar power because they are long-lasting, durable, and they need lesser care and attention. With solar power, you would not need to charge batteries and power-ups often; the panels automatically store up energy during the day and make this abundant at night. Also, you could make due with a one-time installation of solar power, and enjoy them for a very long period.
In a nutshell, the benefits of solar power over other sources are: 
Durability: they last for years
Sustainability: it auto charges and stores up energy
Longevity: they need lesser technical attention once fixed. With solar garden lights, you can now keep your gardens lighted up 24/7 without the need of electricity.
What to keep in mind
1. The size of your garden and yard: how big is your yard? This is essential in determining the capacity of lights you would need and the number that would be sufficient to keep the area bright at night time.
2. Check your pocket: Before deciding on which landscaping idea to subscribe to, you need to check out your pocket and consider your budget. You can get solar lights for your garden areas for as low as $24 and as high as $200 or more. The power strength, voltage, and durability of each product will determine its cost and the value that accompanies them. Be sure to check out Solar Us's wide selection of solar garden lights to give you some ideas on keeping your garden well lit.
3. The purpose of your garden: you should also determine the purpose your garden should serve. If you would like to have a small area where you could relax behind, then you may want to consider some low light solar lights with easily flexable bulbs. On the other hand, if your garden leads the pathway to your home, some pathway lights would look and work great!