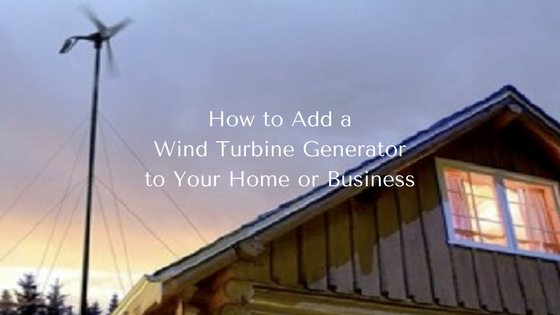 How to Add a Wind Turbine Generator to Your Home or Business
Wind turbine generators are quickly becoming a cost effective way to provide electricity for your home, business, barn, or shop building. Apart from falling costs wind energy offers the sustainability we should strive for as a society. While the notion of installing a wind turbine may seem difficult, we've compiled an easy to follow guide to describe the process of starting your own project.
Certain factors need to be considered before installing a wind turbine at your home or business. Various factors involved include the location, choosing the correct size of turbine and tower after carefully analyzing the turbine's annual output energy, and making a decision of whether to connect the turbine to the grid or leave it off grid. For wind turbines to last long and also work optimally, proper installation is key. They need to be well installed by credible professionals who are experienced in the field or by someone with excellent DIY skills. While it's an excellent idea to seek a professional wind turbine installer if you are short on the technical skills, you can also purchase a wind turbine online and follow the directions from the manufacturer.
Factors and Materials To Consider Before Wind Turbine Installation
While preparing to install a wind turbine at your home or business, there are some decisions you'll definitely have to make and this will be after taking time to consider a lot of technical details.
Wind Turbine Siting
This is the first thing you have to carefully consider before going ahead to install a wind turbine at your home or business. Finding the best location for your turbine is very important. Usually, the industry standard is a distance of 30ft above obstacles within a 300ft range. Any object that obstructs the direction of the of wind flow can alter the productivity and potentially increase turbulence leading to a poor performing wind turbine. This can be avoided in multiple ways which include installing the turbine in a well-spaced area, siting it upwind away from obstacles or increasing the height of the tower. Another important factor to consider is the distance between the tower and its battery bank. This will determine the length of wire that will be needed, as well as its size and cost. Other things to consider when locating the tower include accessibility, conduit cabling, traffic flow, junctions as well as the overall safety. Access to the turbine should be a priority, therefore it is necessary to double check the proximity of the tower property lines, and make sure nothing can compromise the performance of the unit.
Available Tower Options
It is possible to mount a wind turbine on several different towers. The mostly used tower options are lattice or truss towers, guyed towers, stand-alone or mono-pole towers and homemade towers. There are advantages and disadvantages that are particular to each of these types of towers:
Lattice towers:
These towers are easy to climb, need concrete for construction, are usually assembled on site, and need a large base and guy wires. Lattice towers are advantageous due to cost-effectiveness, as they do not require as many materials as stand alone towers, making them less expensive. One major problem with the tower, however, lies in its aesthetics. Due to their design, they are not used regularly in modern turbine installations.
Stand-alone towers:
Stand-alone towers have an attractive design and do not require guy wires. However, their heights are limited and they require very extensive concrete work prior to mounting the turbine. This added concrete requirement can add to costs and difficulty in installing the unit. 
Mountable Towers:
Another popular option we recommend is using a mountable tower kit. As the name implies these types of towers can easily be mounted on your home, barn, or business. By using the tallest height of your building you can avoid needing a longer pole for height, and the building will act as a strong foundation for the unit, making the use of concrete unnecessary. Some factors you need to consider before using this method are the proximity of other buildings as well as any trees. As stated before, these obstacles can block the wind and lower your wind turbine output and performance. Still, the use of mounted towers for a wind turbine unit are very popular due to the ease of installation, lower costs, and the ability to use when you have little available land space.
Guyed Towers:
A lot of small turbines for home or business use have guy wires supporting their poles. The weight is reduced and you can save a lot of money when you using this particular tower. However, in areas like farmlands, it can be difficult to access the tower and there is the possibility of livestock damaging the guyed wires. If your area consists of livestock, or is an area where children may play, it is best to fence this location off for safety purposes and to avoid damage to the system. Due to performance, safety and cost we highly recommend this method. At Solar Us we carry several guyed tower options to best fit your needs.
Available Tower Anchors
Guy towers, in addition to some lattice towers, require anchors to attach the guy wires. Often, an analysis of the soil on which this will be done needs to be carried out. Available anchors include augers which have to be screwed to the ground, arrowheads, concrete, and pins. Arrowheads are usually parallel to the ground surface and pins are punctured into rocks or ground stakes.
Turbine Sizing
Usually, wind turbines of 400 watts to 20 kilowatts are installed in homes and residential areas. This is often dependent on the amount of electricity that will be needed for your location. Most homes use 1000 kWh of electricity annually often requiring a small wind turbine of 5 to 15 watts. When deciding what size of turbine to purchase it is wise to make an estimation of how much energy you consume. It should be noted that the tower height also determines the amount of energy that the small wind turbine will generate. Higher wind turbines equal higher energy production.
Annual energy output
Estimating the amount of energy will further help you know whether the turbine will be able to produce the amount of electricity that is required for your domestic use. You can seek the help of a wind turbine manufacturer or installer in determining this very important factor. The performance of a wind turbine can be calculated using the average energy output per annum, the wind speed, tower height and the frequency distribution of the wind which measures how often the wind will blow at different speeds within a year. To balance your load and to have power when the wind isn't blowing, we recommend supplementing your wind with battery storage and solar power. Wind turbine controllers and stop switches are also useful tools to have on hand to regulate the up and down frequency of your load. 
If you wish, you can connect your wind turbine generator to the grid. Installing a wind turbine to the grid can reduce the consumption of electricity for your home appliances and lighting. When your turbine is unable to supply the electricity you need, the grid will automatically supplement the needed power. For grid applications you will need to install an inverter to the unit in order to convert DC power (the power a wind turbine generates) to AC power (the power the grid operates at). All these important factors should be considered prior to installation of your wind turbine to enable you maximum satisfaction and performance from your wind turbine. 
We hope this article will help in your decision of purchasing a wind turbine for your home or business. Feel free to ask us any questions you may have or visit our selection of recommended wind turbines. For more information on the siting, associated costs, and available tax incentives for installing a wind turbine system to your home or business, check out the vast resources available at the Department of Energy.