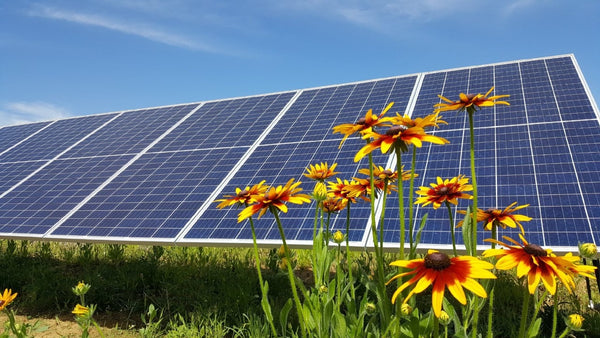 Gear up for a Solar Powered Summer
Aah… the summer.
Longer days, warmer weather, and a calendar full of vacations, BBQs, and outdoor get-togethers. 
As Memorial Day marks the unofficial start of summer, it's time to begin thinking about what gear you'll need to make sure that the fun never stops, and at Solar Us Shop, we'd like to encourage our readers to look upward and power this season with solar energy. 
Solar Powered Products for Summer 2022
Although the White House called 2021 the "Summer of Solar", there is no reason to stop while we're ahead. From utility-scale projects to handheld renewable energy devices, solar is everywhere in 2022, and we are thrilled to be along for the ride. 

With 12 hours of sunlight on the summer solstice, the "longest" days of the year are ahead of us, which means more solar energy potential and opportunities for outdoor fun. So to help customers everywhere enjoy long walks, hosting parties, grilling out, camping under the stars, and more, here are a handful of great solar-powered devices for everyday use. 
Solar Pool Skimmer
Since we first set eyes on Ariel - the Robotic Solar Pool Skimmer, this revolutionary product has been one of our favorite solar-powered devices on the market. Essentially a "Roomba" for your swimming pool, the Ariel is designed to float atop a body of water and slowly clean it, completely autonomously. 
As simple as placing it in the water and letting it run, the Ariel comes equipped with an onboard solar panel to harness the sun and put it to good use. And best of all, Ariel can operate for up to 10-hours on a fully charged battery so that it can continuously clean a pool both on cloudy days and overnight.
Essentially, for pool owners looking for an easy, convenient, and sustainable way to keep their water clean, Ariel - the Robotic Solar Pool Skimmer is a surefire way to enjoy a solar-powered summer. 
Portable Solar Charger Power Bank 
No matter where this summer takes you, chances are that you'll need a little bit of extra battery power in your smartphone. Whether you are taking lots of photographs or playing music until the early hours of the morning, additional battery life is a hot commodity on camping trips, out on the open water, and throughout road trips of all shapes and sizes.
In terms of ongoing access to power, our portable solar charger power bank is a great way to pack lots of extra battery life into a small, easy-to-carry package. Complete with two USB ports, a metal clip, and a built-in flashlight, this solar-powered product can be charged both by the sun and an alternative electricity source. 
Flag Pole Light
Prepare for Memorial Day, the Fourth of July, Flag Day, and every other holiday this summer by purchasing a solar-powered flag pole light. With a 4 LED light and integrated solar panel, Nature Power's solar flagpole light is a weatherproof device that charges throughout the day and automatically illuminates when the sun goes down.  
Did you know that it is illegal to fly the United States flag at night without proper illumination?  Using a solar-powered pole light, flag flyers will not have to worry about daily hoisting and lowering, nor will they have to pay for any additional utility electricity. 
Simple to install, adjustable, and backed by a year-long warranty, it is now incredibly easy to cast a light on your flag with renewable energy. 
Semi-Flex Monocrystalline Solar Panel
Lastly, many consumers are a lot closer to a solar-powered summer than they may think. Using a Nature Power 25W Semi-Flex Monocrystalline Solar Panel, it is possible to charge a 12V battery anywhere and everywhere the sun shines – completely free of charge. 
As a semi-flexible monocrystalline solar panel, this energy-generating device combines the most efficient photovoltaic (PV) technology with the convenience of a lightweight and portable package. Perfect for RVs, boats, camping, and emergency backup power, the 25W Semi-Flex Monocrystalline Solar Panel is incredibly easy to mount and use on a variety of surfaces. 
A convenient and durable solar panel, Nature Power's 25W solar panel is a great addition to any solar energy kit.    
Solar Us Shop – Free Shipping on Orders over $75
Happy summer from Solar Us Shop! 
To help our customers adopt renewable energy products in their life, we are proud to offer completely free shipping on all orders over $75, all summer long. 
Beyond the crowd favorites featured above, our online store is full of great solar-powered devices for every kind of warm-weather activity. If you have any questions at all about our company or the upcoming availability of our popular products, feel free to contact Solar Us Shop, anytime.