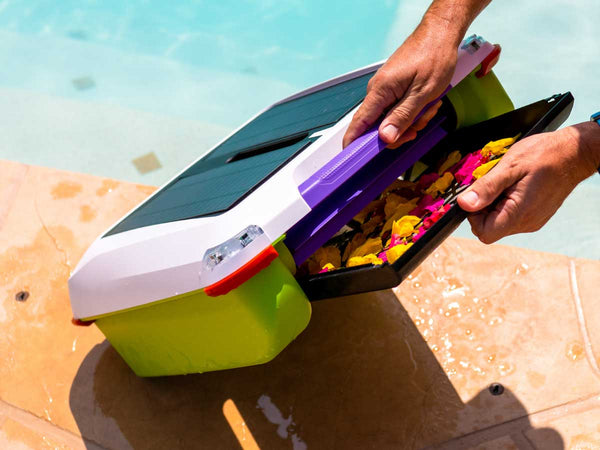 Solar Breeze Ariel - Maintenance, Troubleshooting, and Best Practices
The weather is getting warmer, and for some lucky people, this means that it is officially time to open up the pool!
Last summer, our never-ending quest to showcase the world's best renewable energy products allowed us to introduce the Solar Breeze Ariel, an instant hit among eco-conscious pool owners.  
And while we already highlighted many of this solar-powered, surface-skimming pool cleaner's best features in our full review of the Solar-Breeze Ariel, there is still a lot to know about how to properly use this great product. 
To help our new, existing, and future customers have the best ownership experience possible, here are some essential tips and tricks on how to take care of your Solar Breeze Ariel.
How to Maintain Your Solar Breeze Ariel 
As a largely self-sufficient machine, the Solar Breeze Ariel is incredibly easy to use. Powered by its onboard solar panel, the Ariel does not require a significant amount of ongoing maintenance. However, there are a few key things that owners should do if they'd like to maximize the life of their purchase.
To start, we suggest that you take a full look at the current Solar Breeze Ariel owner's manual. Directly from the manufacturer, the Ariel's owner's manual is filled with safety precautions, diagrams, warranty details, and other helpful information.
Register and Use Your Warranty 
Next, it is very important to know that Ariel customers must register their warranty within 30 days of a purchase. Warranties can be activated on the Solar-Breeze website and owners will need to locate their product's unique 6-digit serial number. 
Once registered, customers are guaranteed a refund, repair, or replacement of a defective product within 1 year of the purchase. Under the limited warranty, coverage may be voided if owners mistreat, fully submerge, or store the product in unsafe temperature conditions. 
Once outside of a warranty period, customers may still be able to contact Solar Breeze for additional technical support, over the phone or online, to help extend the life of their product.
Utilize Best Use Practices
There are two main best practices to know when using your Solar Breeze Ariel: keep it clean and away from danger. 
To maximize its efficiency and lifespan, Solar Breeze recommends that Ariel debris trays be emptied at least twice per month during regular use. After it has been emptied, the debris tray can then be rinsed with a low-pressure stream such as a hose or outdoor sink. 
Beyond rinsing, regular cleanings should also be performed to keep your automatic pool cleaner running at its best. Using regular soap and water, simply wipe your product down, clean it, then finish the job with a dry cloth.
If you begin to notice a red stain on your steel mesh filter that is resistant to basic soap and water scrubbing, you can also use a more powerful ​​Calcium Lime Rust (CLR) cleaner.
In terms of keeping an Ariel safe from danger, the manufacturer recommends that you always  remove the device from the water before swimming and never splash or paddle near a pool skimmer while it is in operation.
And although a little bit of rain is unlikely to damage your device, for safety, the Ariel should also be removed from a pool during extreme (hurricane or tornado) weather conditions.  
Store for Success 
Once your Ariel has made its final voyage for the season, proper storage is essential to ensure the device will be ready in the spring and failure to do so may result in some unexpected surprises.
While avoiding extremely hot or cold locations (below 32°F or above 130°F), the Ariel should be kept in a dry, flat place without anything placed on top of it. 
When you bring your device in for the season, be sure to clean it, dry it, and ensure the battery is not completely used before storing it away. For best results, Solar Breeze recommends charging the Ariel until it is full, and then running the unit for about 30 minutes so that it is stored with a partial charge.  
After a few months idle, the Ariel should be taken out of storage with care. Before powering it up and putting it in the pool, users should physically turn the Ariel's wheels to prime the machine for operational movement. 
Troubleshooting Tips
Before concluding, let's take a look at a few quick troubleshooting tips to keep in mind when things go wrong. 
For units that have become stuck in a corner or are simply not skimming quite like they used to, you may have an issue with one of the three paddle wheels. While looking at the device's underside, run your Ariel to make sure that all three wheels are turning freely. 
When there is an obstruction or internal gear issue preventing normal wheel operation, talk to Solar Breeze before making any dramatic adjustments to the system.  Or, submit a request to have your unit fixed under warranty.   
If your pool cleaner has suddenly stopped working entirely, hold down the power button for approximately 5 seconds or until the indicator lights go out completely. This will reset the circuit board and is likely to fix any small electronic issues associated with an Ariel.  
With a lifespan of up to 1,000 cycles, eventually, a failure to power up may also mean that the unit's battery is no longer able to hold a charge. Through constant use, Solar Breeze owners can expect to replace their batteries every two to three years. 
Conclusion
At the end of the day, no product is perfect, but utilizing best practices can help you get the most out of your Solar Breeze Ariel. If you are not satisfied with your Ariel for any reason, you can contact Pivot-Solar Breeze at (623) 582-2825 or customerservice@solar-breeze.com to learn your options. 
Are you in the market for a new solar powered pool skimmer? Although they tend to swim off of our shelves as soon as they become available, Solar Us Shop may have a Solar Breeze Ariel in stock for your pool this summer!