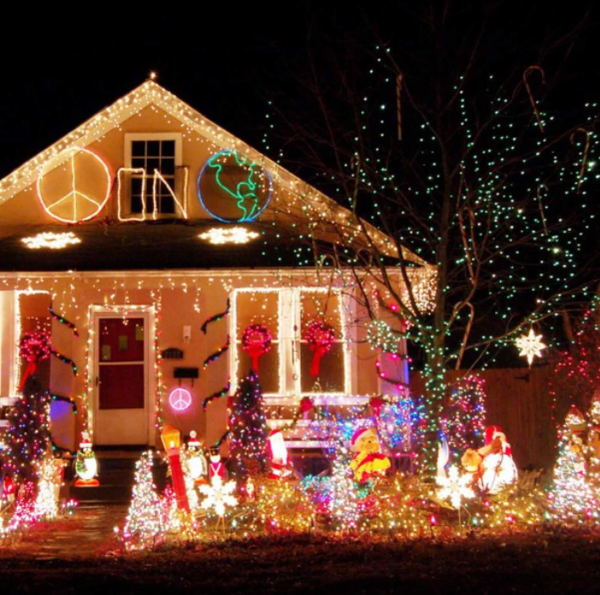 Solar Christmas Lights for a Sun-Powered Holiday Season
Decorating your home with lights during the holiday season is a fun and time-honored tradition. The only downside is the increased electric bill that usually follows. Luckily, that no longer has to be the case. With solar powered Christmas lights and decorations, you can have the same festive look while ultimately saving on electricity and the associated costs. 
Here at Solar-us-shop.com, we've come together to bring you a complete guide to holiday solar lights. We'll explain all the pros and cons, highlight the benefits of the models we believe to be the best on the market, and even offer a look at some practical solar alternatives. 
Whether you're looking to lower your holiday utility bills, or wanting to invest in an eco-friendly way to spread holiday cheer, this guide to solar Christmas lights will cover everything you need to know. That being said, let's jump right in. 
What are Solar Christmas Lights? 
Solar Christmas lights are essentially the same as ordinary Christmas lights with one major exception. Instead of using traditional electricity, solar powered Christmas lights use free renewable energy from the sun. This advantage leads to lower energy costs and more versatility when decorating. 
Solar Christmas lights come in a variety of shapes, designs, lengths, and types of bulbs, similar to traditional Christmas lights. You may come across additional names for solar Christmas lights, including: 
Solar Powered Christmas Lights
Holiday Solar Lights
Solar Decorations
Solar Christmas Decorations
Solar String Lights
Solar Holiday String Lights
Solar Twinkle Lights 
Solar Fairy Lights
And other similar terms
How Do Solar Christmas Lights Work? 
The property that makes solar powered Christmas lights different from traditional Christmas lights is their ability to operate independently from the electrical grid. Solar Christmas decorations utilize a small and portable solar panel, which is usually attached to the strand of lights in lieu of an electrical plug. 
The panel is often connected to a convenient stake which can be firmly planted in the ground for stability. In order to generate power, the solar panel absorbs sunlight throughout the day, which is then converted to electricity and stored in a small battery to power the lights at night. Many solar Christmas lights also feature automatic sensors, which automatically turn the lights on or off depending on the time of day. 
Pros & Cons of Solar Christmas Lights 
There are several advantages to choosing solar Christmas lights for your holiday decorations. From energy efficiency to increased versatility, you won't regret your decision to switch from traditional Christmas lights to a more practical solar option. 
We've outlined some of the major pros and cons associated with solar powered Christmas lights so you can decide if they are right for your home. 
Pros
Powered by free energy from the sun

Lower electricity bills 

A clean environmentally friendly option

Can be set up anywhere with access to the sun

Require no extension cords or outlets

Made from durable and weatherproof materials

Some feature automatically on/off sensors 

Just as bright as traditional Christmas lights
Cons
Needs adequate sunlight to function properly 

Each individual strand requires a separate solar panel

Total operating time can vary 
Why Are People Installing Solar Christmas Lights?
Solar Christmas decorations are gaining in popularity for economic, environmental, and convenience reasons. Some homeowners appreciate the lower utility costs that come along with solar Christmas lights, while some enjoy the minimal environmental impact. 
For others, the freedom to decorate anywhere without the use of messy tangled extension cords is enough on its own to warrant the use of solar holiday lights. Whatever your reasoning may be, solar Christmas lights are guaranteed to make your holiday decorating easy and stress-free. 
For more info on holiday tips, feel free to check out this helpful article. 
What are the Best Solar Christmas Lights? 
There are plenty of choices for solar powered Christmas lights out there today, so it can be difficult to choose the right ones. After careful consideration, we've compiled a list of the models we believe to be some of the best on the market. Varying in length and style, these top four options should satisfy a wide range of homeowners, small business owners, and all other holiday enthusiasts. 
30 LED Crystal Ball Solar Powered Christmas Lights 20 Ft
The first model on our list is the 30 LED Crystal Ball Solar Powered Christmas Lights 20 Ft. Available in seven vibrant colors, these LED solar powered Christmas lights are perfect for sprucing up your home, garden, or patio for the holiday season and beyond. 
The bulbs of these solar Christmas lights each measure about 1 inch across and the 20-foot length is long enough to hang or wrap around small trees or hedges. Better yet, these holiday solar lights are fully waterproof and dimmable to match your preference. You can even use these lights to decorate indoors as long as the solar panel is situated near a window. 
39 Ft Solar Holiday String Lights 100 LED 
Next up is the medium length 39 Ft Solar Holiday String Lights 100 LED. Featuring 100 small, individual LED bulbs, and 8 unique color options, these string lights are an energy-saving and reliable choice. When fully charged, these holiday solar lights can last for 10 consecutive hours, meaning your home can stay bright and festive through those long winter nights. 
The 8 different lighting modes give you complete control over your home's aesthetics and allow you to rotate between a variety of settings. With a 1-year warranty, you can have confidence that your new eco-friendly lights are built to last.
72 Ft Large Solar String Lights 200 LED
The longest strand of solar Christmas lights on our list is the 72 Ft Large Solar String Lights 200 LED. Just like the previous option, these LED solar powered Christmas lights can also be purchased in 8 different colors ranging from blue to red to white and everything in between. 6 hours of sunlight is all it takes for these 200 brilliant LED lights to fully charge. 
After a day of soaking up the sun, you can expect 8-10 hours of uninterrupted power. Those who are looking to decorate longer fences, taller trees, or outline the trim of a house, may want to invest in these 72-foot strands of solar lights. 
Durable and secure from all types of harsh weather including rain, snow, sleet, and high winds, these solar Christmas lights won't quit on you halfway through the holiday season. Additional strands can always be added as necessary. 
21ft 50 Flower LED Solar String Lights
The final option on our list is the 21 Ft 50 Flower LED Solar String Lights. The appealing flower design of the bulbs makes these solar string lights a unique option that can be used year-round. The beautiful purple color is ideal for adding a calming aspect to a garden, porch, or other outdoor areas. 
With several settings to choose from, they can help bring some cheer to the holiday season. The built-in Ni-Mh battery is fully rechargeable using the attached solar panel and can operate for 8-10 hours after a charge. 
The automatic sensing feature can also turn the lights on at night and off during the day, helping to save battery life. For an all-around fun addition to your home, these cost-effective solar Christmas lights are a no brainer to replace those old conventional Christmas lights. 
Solar Christmas Light Alternatives 
While the holiday season is the most popular time of year for outdoor lights, there are several other instances where solar lights can be utilized. From other holiday celebrations to everyday home and garden use, solar lights can come in handy and help reduce energy costs. Let's take a look at a couple of alternative solar lights. You can also view this insightful article for more information on solar lighting options.
Halloween Solar String Lights 30 LED 15 Ft
Halloween lights are getting more popular each year. Just like Christmas lights, they can waste electricity and lead to higher energy bills. However, with these Halloween Solar String Lights, you can light up your home or yard without any extra costs.  
Featuring two different lighting modes (steady and flashing) and spooky ghost-shaped bulbs, these Halloween solar string lights can be set up far from any outlet or power source. After a few hours in the sun, these lights can run for 8-10 hours. They can also be used year after year, sporting a lifespan up to 5000 lit hours.
Solar Landscape Lights 
Solar landscape lights include options such as floodlights, path lights, string lights, lamp lights, flag pole lights, and more. These solar lights can provide safety, security, and curb appeal to your home with minimal maintenance and effort. 
The accompanying solar panels keep the lights working year-round without the need for conventional electricity, essentially paying for themselves once they've been installed. They are durable, convenient, and often just as bright and effective as traditional landscape lights. 
Small steps like opting for outdoor solar landscape lights are a great way to get started with solar energy and the world of renewable energy in general. 
Wrapping Up 
Whichever your main reason may be for choosing solar Christmas lights this holiday season, you're likely to find plenty of additional benefits that add to their practicality. Whether it's the energy savings, low environmental impact, or simply the overall appearance, everyone can find satisfaction in solar-powered Christmas lights. 
We've covered all the necessary information so that you can have a solid foundation when choosing the solar Christmas lights that best suit your style. As always, you can find more info and product specifications at Solar-us-shop.com. Please feel free to visit us online for all of your future solar energy needs.