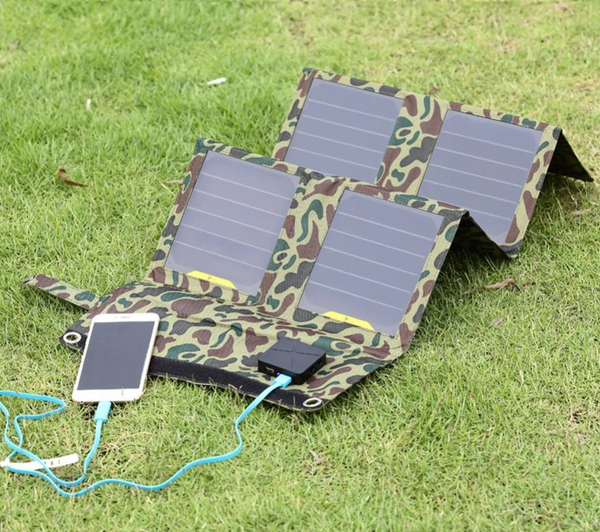 Power Packs for Camping: Extra Battery Life in the Outdoors
Providing a little extra charge overnight, power packs for camping make it possible to continuously run electronics in the outdoors. Whether it is your phone, flashlight, or portable speaker, it is always nice to have spare electricity around when car camping or spending the night deep in the backcountry.
Solar-Us-Shop makes it easy to bring the power of the sun (and other great renewable energies) to outdoor enthusiasts anywhere in the world. Power packs for camping are one of the most recognizable uses of the technology today, so we'd like to provide this no-nonsense guide for anyone looking to learn more about small portable packs of solar power. 
In this article, we will define power packs for camping, explain how they work, and showcase some of the most environmentally-friendly solutions for small amounts of electricity on the go. 
What is a Power Pack for Camping? 
A power pack for camping is basically just a portable battery designed for the outdoors. Oftentimes, power packs are designed to hold one or several extra charges for small electronic devices. Power packs for camping can be used to charge:
Cellphones

Tablets and E-readers

Flashlights

Lanterns

Portable Speakers

Lights

Laptops

Projectors

And more
Of course "power packs" isn't an official term, and these devices have many monikers. Power packs may also be called:
Portable chargers

Portable power supplies

Battery chargers

Battery banks

Power banks

Spare batteries

Portable batteries

and rechargeable batteries
While some of us would prefer a hotel over a tent, these devices also come in handy for:
Tailgating

Road Trips

Concerts, festivals, and events

Airports 

And travel
How a Power Pack Works
So clearly, power packs for camping are a widely known category of products with many other uses. Even within this broad spectrum of consumer electronics, there is also diversity in how power packs for camping work.
The operation of a power pack can essentially be broken down into three stages: 
Charging -
Power packs are designed to be recharged primarily via USB ports through various sources of electricity. Most commonly, small battery banks are recharged using ordinary home power before being taken on a camping trip. 
Retaining -

Once your battery is fully charged, you may then store it away in case of an emergency, spontaneous trip, or temporary electrical blackout. Small devices typically retain their charge for 3-6 months. 
Using the Electricity -

And finally, power packs are typically very user friendly when it comes to charging your electronics. Before you purchase your battery bank, it is important to know which ports and cords are included and if they are suited for your devices. 
Solar Power Packs for Camping 
There are two ways in which battery banks can be recharged with solar energy: all-in-one devices and small solar kits. 
All-in-one Solar Power Packs
First, there are many small devices that incorporate a built-in solar panel to recharge the battery directly in the sun. While technology is moving quickly for these increasingly efficient systems, oftentimes onboard solar panel charging is quite slow. To compensate for this, most handheld solar batteries can also be recharged with another source of power.
Solar Panels + Battery Banks 
If you need a little bit more storage than just a few charges, then you may want to look into a full solar panel kit. For extra electricity on the go, the combinations of portable solar panels and solar-friendly battery banks are essentially endless. Large, portable power packs designed for solar energy charging are sometimes called "solar generators," and are becoming increasingly popular for living sustainably off of the grid. To learn more about large power pack possibilities, please see our full article on solar kits.
How to Choose the Best Power Packs for Camping 
If you are looking for small, packable batteries that are lightweight and convenient for travel, then we recommend choosing an all-in-one solar power pack. With a built-in solar panel and optional alternative charging methods, you are assured to have power wherever you go. Even if you forget to charge your solar pack before your trip, you can toss it on the dashboard of your car and pick up some of the day's sunlight before heading to your campsite.
For multi-day trips, it is definitely worth it to consider trading an on-board solar panel for a larger battery capacity. Although it may not be as convenient as an all-in-one system, a larger battery bank generally offers more hours of charging, longer battery life, and extra options for powering different devices. 
When it comes time to choose between specific brands and models, there are a few identifying features that can help determine the ideal power pack for your camping trip. As you consider different devices, criteria can be differentiated in the following ways:
Price and budget

Methods of charging

Quantity and type of input and output ports

Included charging cords

Battery capacity 

Expected battery life cycles 

As well as warranty and seller information
Our Top 3 Solar Power Packs for Camping 
To get the ball rolling on your decision making, we'd like to recommend three solar power packs that are perfect for camping trips of all shapes and sizes. Below, we will showcase three products that are suited to meet any happy camper's budget and electricity demand. 
First, we would like to recommend our 6000 mah Solar Powered Battery Charging Bank & Flashlight. Not only is this device lightweight and capable of charging two devices at once, but it also includes a bright LED flashlight built into the battery. When the sun goes down, it is never a bad idea to have an extra source of light around for a fun and safe camping experience.
Although personally, we feel that the green model will look best in the cup holder of your camping chair, this charging bank also comes in orange, yellow, and black. With the built-in hanging ring, this portable battery can also be easily clipped into place for optimal charging or use. 
Largely the same as our last recommendation, we would like to showcase our 20000 mAh Portable Solar Charger Power Bank and Flashlight as an equally capable device. For just a few more dollars, you can practically double your battery capacity with this 20,000 mAh portable solar charger. 
With enough power to charge multiple devices several times, this power bank can be continuously reused throughout a camping trip while recharging in direct sun. In order to withstand the elements, this power bank has been equipped with a shockproof protective casing designed to resist water damage.  
Finally, we would like to recommend the Nature Power Power Bank Elite 25 as a high-powered option for campers in need of large capacities of electricity. Despite this device's compact, lightweight design (only 2.5 pounds), Nature Power knows how to pack a punch into this 25,000 mAh capacity battery.
Here, it is important to note that Nature Power's Power Bank Elite costs nearly $200 more than other products on this list, despite having only 5,000 more mAh of battery capacity than the previous device. This enormous cost jump is due to two premium features: a usable AC power outlet and expanded solar charging capabilities. 
Without getting overly technical, most people will recognize an AC outlet as an ordinary wall outlet. The technology required to invert solar energy for use as AC power is responsible for driving up the price of this product, but provides bonus powering capability to the end user. With an AC outlet, campers can bring along more electronic devices that cannot be recharged with USB power.
Although there is not on-board solar charging, this Power Bank Elite is designed to incorporate electricity generated from external PV panels. Most commonly, this device is paired with Nature Power's 15W high-efficiency solar panels. Together, the solar input and the Power Bank Elite combine to provide small amounts of long-term, sustainable electricity for multi-day or large group camping trips. 
Alternatives to Power Packs for Camping 
Whereas a power pack implies that a battery is on board, solar energy also opens the doors for another lightweight electricity solution. With folding solar panel chargers, you can connect your cell phone or other small electronic device directly to the source of electricity. 
Despite not having a battery storage capacity, devices such as our 5W Folding Camouflage Solar Panel Charger or the 26 Watt Camouflage Folding Solar Panel Charger, can power devices when exposed to direct sunlight. Most commonly, these portable chargers are hung on a backpack, tent, or tree to continuously charge small electronics during daylight hours. 
In addition to their low-visibility camouflage design, these solar panel chargers are ideal for camping thanks to their superior build quality. Both the 5 watt and the 26 watt models are weather, heat, and wear-resistant. Conveniently, these chargers also fold-up nicely and can be easily transported while backpacking, hunting, or simply enjoy extended trips into the wilderness. 
Wrapping Up 
In conclusion, if you are searching for the best power packs for camping, consider the possibility of harnessing the power of the sun. Today, built-in solar panels and compatibility batteries make it possible to generate and store small amounts of electricity before and during your next camping trip. We hope that this guide has helped you understand the essentials of power packs for camping, and we encourage you to l
earn more about other solar-powered products in our blog
.