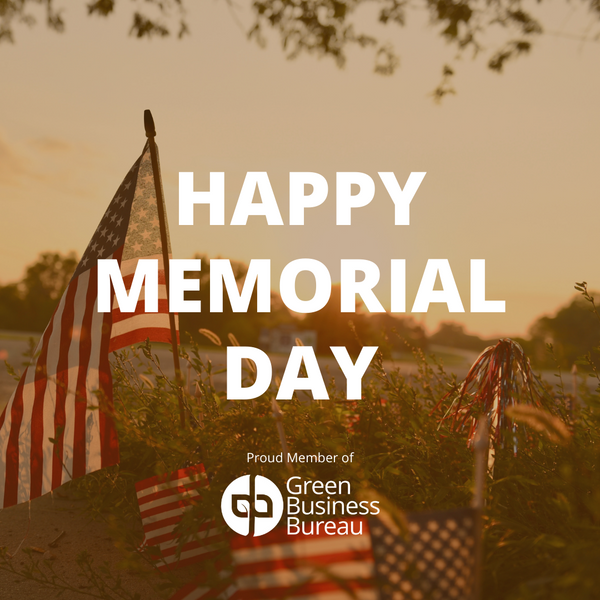 Solar Flag Lights for Memorial Day, 4th of July, and All Summer Long
In many people's minds, Memorial Day is the unofficial start to the summer, and this year is sure to be like no other. The summer of 2021 is guaranteed to be filled with parties, gatherings, and celebrations of all kinds in the wake of a global pandemic that changed the way our world works.
This Memorial Day, we hope you are able to take a moment to honor the fallen members of the US military during the federally reserved holiday. Of course, one of the best ways to showcase your patriotism is with a properly displayed flag. 
Is it illegal to fly a flag at night without a light?
Although you are likely to be let off with a warning, it is traditionally disrespectful to fly a flag at night without a light. The American flag is to be flown from sunrise to sunset, raised and lowered at dawn and dusk. 
If a flag is going to be flown throughout the night (like at your famous Memorial Day Weekend party), then a spotlight should be used to properly illuminate it until the sun rises again.  
Why Purchase a Solar Flag Light? 
So other than obeying the law, there are many great reasons to purchase a flag light this flag season. Now that the days are getting longer and the sun shines a few extra hours, Memorial Day Weekend is the perfect time to finally go solar. 
Although we are well aware that you can shine any old light onto a flag to keep it illuminated, we will outline the top reasons to choose a solar-powered device below. After all, what's more patriotic than something that is independent and free? 
Free Solar Energy 
First and foremost, solar flag lights are inexpensive to purchase and virtually costless to run. Solar energy is completely free, so the only pennies you will spend on a solar flag light is going to be on purchasing, shipping, and handling. 
While any light hooked up to your home's electricity supply will quickly begin to rack up utility bills, solar-powered devices can run free of charge. Knowing this, the lights can be kept on all night long, completely guilt-free of ongoing electricity bills.   
Power Anywhere
Second, solar power can be generated anywhere sunlight hits your property. This means a solar flag light can be mounted on the pole, placed on the ground, or set in any other place around your yard with direct sunlight. 
In fact, many small solar flag lights are made to be portable to maximize their functionality in your outdoor space. Solar flag lights are completely multi-purpose and can also be used to illuminate trees, signs, walkways, fences, decorations, and other landscape features. 
Automatic Power Modes
"Did you remember to turn the flag light on?"
That's a question you will never hear with an automatic solar flag light. Many solar lights are built with a smart light-sensing photon that detects sunset and sunrise, turning the LED bulbs on and off accordingly.  
Plus, solar energy systems require very little (if any) maintenance to generate tons of usable power. You may have to never think about your solar flag light again as it seamlessly charges and discharges its battery capacity to create tons of bright sustainable illumination. 
Built for the Outdoors
Lastly, not all flag lights are made equal, though solar flag lights always come with the advantage of pure outdoor design. Solar-powered products are built to last in both the heat of the sun and the wet of the rain, durable against any ordinary weather pattern.
If a disaster is looming in the distance or winter storms are expected to hit soon, we do suggest that solar flag lights be brought inside or protected, if possible. So whenever you bring your flag indoors at the end of the season, don't forget to bring in the solar light as well!
How to Mount Solar Flag Lighting
Every solar flag light is going to be mounted a little bit differently, but in general, the process is going to be largely the same for on-pole installations.  No matter what product you choose, any solar flag light from a reputable seller will include all of the parts necessary for an installation (i.e. screws, nuts, and bolts) and hopefully some instructions to match.
If you're looking for general instructions, we highly suggest looking for videos related to your product or similar flag lights. In general, solar flag lights are either mounted above the flag (on top of the pole) or below the flag as a single spotlight. 
The Best Solar Flag Lights For this Flag Season
To get you started with a few ideas for your flagpole, here are some of our favorite solar products for a long season of renewable energy-powered lighting.  
This solar spotlight is a perfect entry-level solar flag pole light. Complete with mounting materials and a one-year manufacturer's warranty, the Nature Power 4-LED solar flag pole light has everything you need to quickly get started. Here are a few of its features:
Completely weather resistant

All-in-one unit, no wires!

Easy to install and use.
Next, consider going green with "Solar Goes Green" which manufactures a few great warm white-LED solar flag pole lights. With 12 power-packed LED bulbs to brag about, SGG manufactures some of the brightest solar flag pole lights on the market, with the ability to charge quickly and last throughout the night. 
Here are some specs for this solar flag light:
3-year warranty on LED lights

Manufactured and shipped in the USA

Weather-proof and long-lasting
Finally, if Solar Goes Green's high-powered solar flag light was just out of your expected price range, we would like to suggest this 72 Lumen alternative. Although this product does not have the epic range of the other 12-LED model, it is a great way to get some light on your flag with an easy installation. 
With versatile use in mind, you can either mount it with a wall mounting kit or a special solar flag pole light mounting kit for a durable installation against wind and weather conditions. 
Final Thoughts
From Solar Us Shop to all of our readers, we wish you a happy and safe Memorial Day, Fourth of July, and the entire summer season. Hopefully, this article has helped you learn more about the free and independent electricity that solar power has to offer. 
Don't forget that solar flag lights are just one of many great sun-powered products that can help you use more sustainable energy in your life. To explore your options even further, feel free to check out all of the solar-powered products in the Solar Us Shop!