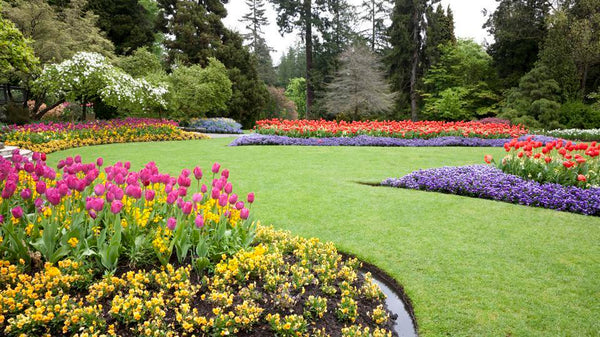 The Homeowners Guide To Eco-Friendly Landscaping
Landscaping your home comes with many perks. Not only does it boost curb appeal, but it is financially beneficial for the overall value of your property. However, some landscaping practices are not as sustainable as they may appear—causing a negative impact on the environment and potentially your property.
Whether your home is on a small urban property, rural farm, or somewhere in between, making intentional decisions about your landscaping options is only the first step to planning your eco-friendly design. Before you start any landscaping projects, it's important to be familiar with some basic principles. Check out our pointers below and incorporate them into your next eco-friendly landscaping endeavor!
Eco-Friendly Landscaping VS. Traditional Methods
Traditional landscape plans emphasize your property's aesthetic and function. Although traditional designs are eye-catching and well organized, they require a lot of maintenance and care. Common landscaping practices cause harmful environmental and economic impacts by using expensive fertilizers and pesticides that create wastewater runoff and pollution. However, many landscaping practices can be changed to be more environmentally friendly.
Building an eco-conscious landscape design provides an attractive, sustainable space while also harmonizing with your home's natural environment. Sustainable landscapes conserve the natural ecology of your home, prevent negative impacts on the environment, and reduce water and energy waste.
Eco-Friendly Landscape Tips
Keeping some basic sustainability tips in mind when planning your landscape project can help to keep your project on track and intentional.
Use Water Responsibly
Conserving water is always a good idea, especially if you live in a climate where water is scarce. Many traditionally landscaped homes use wasteful water irrigation systems leading to water runoff. This not only creates an excess of wastewater but also increases the chance of chemicals from traditional fertilizers and pesticides polluting natural water nearby. Creating a rain garden to remove standing water in your yard is a cost-effective way to prevent site runoff. Areas that are naturally descending or have a depression are great places to collect water. Plant flowers or shrubs within the bottom to help redistribute and collect the water.
Reduce, Recycle, And Reuse
When investing in an eco-friendly landscape, it's important to remember to recycle, reduce, and reuse everything you can for the project. Instead of buying compost, save on the packaging and shipping costs by making your own. You can make compost from any yard or garden waste such as fruit and vegetable scraps, leaves, or grass clippings to have nutritious plant-soil every year.
Depending on your availability and project needs, finding the tools and materials to create your eco-friendly landscaping can be tricky if you live in a small or isolated area. Buying compost, wood chips, and other natural materials can save you time and effort and are fantastic additions to any sustainable landscape design. Remember to shop locally before buying online to reduce your carbon footprint and save on packaging and shipping costs.
Think About Your Location And Recognize Your Property Limitations
If you've lived in your area for a while, then you probably have a good idea of how the climate and local weather affect your property. If you're looking for a home in an unfamiliar area, buying the wrong plants or landscaping materials for your climate will just cost you financially, in addition to wasted energy and water resources.
Determine how you will use your property and develop a plan that fits your site's needs by asking questions like whether you have to worry about soil erosion, and what design or plants it suited to your climate.
Windy climates benefit from incorporating a windbreak into their design plan. Purposefully creating a natural windbreak from either a collection of trees, a living wall, or a natural stone barrier helps diminish the strength of strong winds. Sunny or dry climates are great options for heat-tolerant plants and Xeriscaped designs. Dry climates thrive when using hardscape designs, minimizing the use of plants, and optimizing the use of outdoor space.
Gardens And Plants
Choosing plants that are native to your area is an easy way to maintain a natural and sustainable eco-landscape. Don't select plants based only on their color or appeal. Sustainable landscaping is about giving your home a natural, balanced, and efficient space—without compromising the planet.
Even if you don't live in a hot or windy area, using plants that are drought and wind resistant requires a minimal amount of maintenance and watering. Plus, they don't require pesticides or fertilizers. Planting flowers that attract pollinators like bees and butterflies is another way to encourage a healthy habitat and provides an ecologically balanced environment for local animal species.
Groundcover
Groundcover is an excellent alternative for homes that have a lot of excess turf or lawn. Ground Cover not only minimizes the amount of lawn you have to mow, It's also a great solution for covering bare spots and creating a low-maintenance design. Ornamental grasses are one of the most common forms of groundcover and are also beneficial for controlling soil erosion. Other common eco-friendly ground covers like mulch or stone gravel also help to provide natural barriers between your yard, patio, sidewalks, and natural woodland areas.
Pest Management
Combating natural pests and predators with eco-friendly alternatives not only helps prevent water and soil pollution but also helps your gardens and other natural designs. For example, if aphids are eating the soft stems, branches, or buds of plants in your area, it's important to act quickly and efficiently to prevent an infestation. Introducing natural predators, like ladybugs and nematodes, minimizes the aphids on top of the soil. Other eco-friendly alternatives, like neem oil, which goes beneath the topsoil, and help to contain the spread of aphids and an infestation without using harmful chemicals.
Optimizing Your Space
Using hardscapes and stone ground cover is a smart addition to every landscaping project. After putting a lot of time and effort into your landscaped outdoor space, it would be unrealistic to not be able to enjoy it.
Building a patio or outdoor entertainment area brings more functionality to your landscape while still having the ability to optimize your energy consumption. Building with sustainable materials like reclaimed, indigenous wood, or stone is the optimal choice, but if those options don't sound appealing, many other options are available.
Buying solar landscape lights to brighten your outdoor space is a beneficial way to enhance your landscape and also provides an eco-friendly alternative to traditional lighting. Consider adding fun eco-friendly elements to your outdoor space by decorating with your favorite recycled indoor/outdoor rug or this portable air conditioner.
Extending eco-friendly practices and design into your landscaping project not only helps to give your home a more natural, sustainable aesthetic. It also has a significantly positive impact on the environment. Eco-friendly alternatives to traditional landscape methods are cost-effective, self-renewing, and an easy way to minimize water and energy usage. Whether you're a seasoned homeowner or a first-time house hunter, utilizing eco-friendly landscaping practices and materials is a sound option.