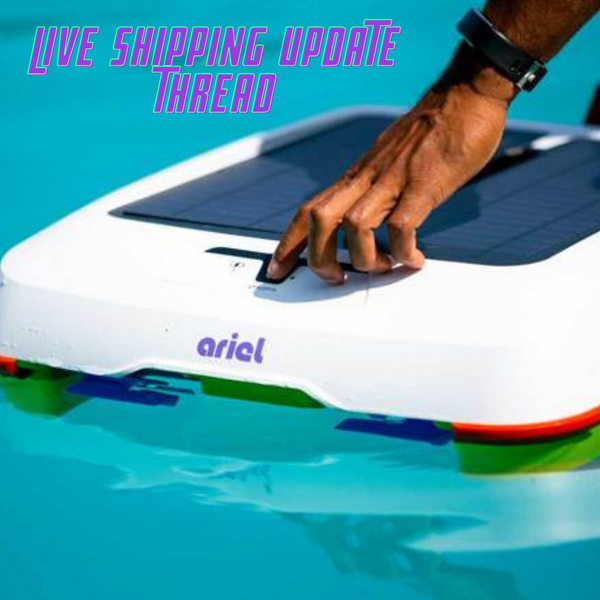 An Update on the Ariel Solar Pool Skimmer
We wanted to create a page to host any Ariel updates as they become available. If you have purchased an Ariel or are thinking about purchasing an Ariel, we recommend adding this page to your favorites and checking back if you have any questions or concerns.
Solar Us Shop Update: 5/15/2021
Let us start off by saying Thank You for your interest in the Ariel Solar Powered Pool Skimmer Robot! Ariel is a brand new product and also an upgrade to Pivot-Solar Breeze's popular swimming pool skimmer, the NX2. We are very excited about this innovative product, and we can't wait for you all to get your hands on one! We were delighted to be a part of Solar Breeze's launch of this brand new product, and we listed it available for pre-order early this year. As with any new product launch; unforeseen delays, logistical and production delays, and other issues can certainly occur. With the craziness going on in the world this last year, Ariel became a victim to this. We hope you find further transparency of the issues listed on this page to be useful. Global shipping delays caused by the ongoing Covid-19 and other unforeseen events are the root causes of the delays, and Solar Breeze is working diligently to overcome these obstacles.
Many of the more serious delays occurred in March and early April of this year, and this created a significant backlog of orders (including some of ours) to fulfill. Please check out these original updates from Solar Breeze dated April 16 and April 26 to learn more about the specific issues that occurred. We will do our best to summarize it next if you don't have the time to check them out.
As mentioned in the above link, Solar Breeze was experiencing a backlog of approximately 1,500 orders/units in mid April of this year. We don't have a specific date for our customers, but if you placed an order prior to the first week of April then it is likely your order falls into this "backlogged" category. Solar Breeze is committed to fulfilling all orders in the order they are received, so getting through this initial stack of backlogged orders is the cause behind a number of our orders not being ready for shipment until early June or 6 weeks from the time of your order, depending on when your order was placed.
If you ordered prior to the first week of April and still haven't received your order, it is likely it will ship out in the next couple of weeks from the time of this initial post May 15, 2021. We spoke directly with Solar Breeze this week, and they advised us to tell our orders moving forward to expect a lead time of 6 weeks from the time of your order for the order to ship to you. If you placed an order in mid April or later, please expect 6 weeks from the time of your order to ship to you.
***Please be advised that the above information is subject to change and further delays could occur. We will do our best to track any changes on this page.***
We have done our best to communicate this to all of our customers, but please understand that as a small business, it has been challenging to keep everyone updated with the numberous changes. We sincerely apologize for the delays, and we appreciate your patience and understanding. For your reference, we have compiled some Important Information that pertains directly to our orders. Please don't hesitate to reach out to us at support@solar-us-shop.com if you have any further questions or concerns.
Important Information
Cancellation/Refund of an Existing Order
We completely understand the inconvienence caused by the delays, especially since Pool Season is fast approaching. For this reason, we will accept any cancellation requests and refund your order at anytime prior to shipment, if you so desire. To initiate a cancellation request, please reach out to us referencing your order number at our email adress support@solar-us-shop.com.
It is important to note that if you cancel your order you will not be able to reclaim your position in the 6 weeks shipment wait period. A cancellation and subsequent reorder would restart the clock at 6 weeks, at least for now until shipments get caught up by Solar Breeze. This wait period is consistent with Solar Breeze and their other dealers/retailers, so it is unlikely you would be able to get a quicker shipment from another source.
Customer Charges/Payments
If you have placed or plan on placing an order for Ariel, please be advised your form of payment will be charged at that time. We understand the inconvienence this may cause you, especially with the waiting period and the total cost of the product. Unfortunately, we currently do not have a way in our system to have your form of payment delayed until the time of shipment. Please understand that we also have to pay and reserve your order with Solar Breeze, so we are also on the hook for funds in a similar fashion.
As previously mentioned, you can cancel at anytime prior to shipment, and we will promptly return your funds. If the escrowed funds are an issue, we can also take your contact information and alert you as soon as the product is ready for immediate shipment for you to reorder. However, as the situation currently stands we do not have an estimate of when this will be.
Return Policy Upon Customer Receipt of Ariel
We also realize our current store Return Policy states "within 30 days of an order being placed." Generally, the products we offer are in stock with prompt deliveries and not pre-orders, so we consider this to be a special and separate situation. Out of fairness, we are amending these terms on Ariel Solar Pool Skimmer orders to allow for 30 day returns from the time Ariel has been physically received from the customer.
If you have had your Ariel for less than 30 days and would like to initiate a return, please reach out to us with your order number referenced at our email support@solar-us-shop.com