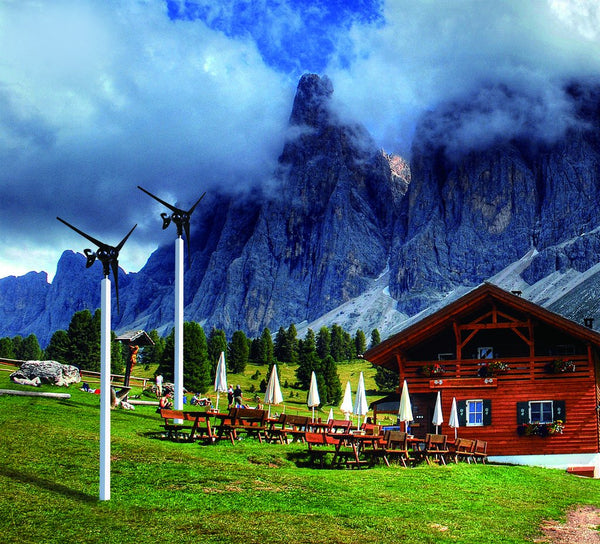 DIY Wind Turbine Kits: A Guide for Small-Scale Renewable Power
Here at Solar-Us-Shop, we do not discriminate against any energy choices, so long as they are renewable. While solar is in our name (and always in our hearts), we fully support the rapid growth of wind power in the United States. 
Of course, we can't all be the Alta Wind Energy Center, which is the largest wind-energy power plant in the country. Instead, homesteaders, experimentalists, penny-pinchers, and renewable energy enthusiasts have the opportunity to harness wind power with a DIY wind turbine kit. 
In this article, we will break down the logistics, cost, and considerations of modern DIY wind turbine kits before recommending a few products for small-scale renewable energy production. 
If you cannot find what you are looking for here, please be sure to read our Wind Turbine Kit FAQ.
DIY Wind Turbine Kit Considerations
Alright, let's get started! There is a lot to consider when evaluating the possibility of a DIY wind turbine kit. While massive wind turbines in fields across the country are built and maintained by licensed specialists, DIY wind turbine kits bring the power of wind energy into the hands of people everywhere. 
Can you build your own wind turbine? 
Yes, it is possible to build your own wind turbine. However, if you do not have a lot of electrical experience, we do not recommend it. Although the true definition of "DIY," relies heavily on personal self-sufficiency, most do-it-yourself wind energy kits include a manufactured turbine. This is vital for the safety and longevity of your renewable energy system. 
Can I put a small wind turbine on my roof?
Although it is technically possible (and usually legal) in most areas, it is generally advised not to install a small wind turbine on a roof. While in operation, wind turbines vibrate, which may cause excessive noise and even damage to the roof and structure below. Because of this, we recommend installing a wind turbine on a pole or ground mount, unattached to any other buildings. 
How big of a wind turbine do you need to power a house?
To meet the electricity demand to power a house, a wind turbine would need to be rated anywhere from 5kW to 15kW. These turbines should not be installed by an amateur, as they are very large, high-powered, and potentially dangerous. 
On the other hand, many DIY wind turbine kits are not meant to meet the complete power demands of a home. Small kits can be used in off-grid systems to power lights, fans, and other appliances plugged into the storage. 
DIY Wind Turbine Kit Costs 
Okay, let's talk dollars and cents. The cost of a DIY wind turbine kit includes the parts, transportation, and labor associated with the installation. If you choose to truly do it yourself, labor cost is mitigated, however, the following expenses are going to be inevitable:
Cost of the turbine

Cost of the battery storage

Wiring (sometimes included with turbine or battery)

Mounting Equipment

And Inverter (for AC power only)   
How much does a wind turbine cost?
Small, off-grid wind turbines generally cost between $1,000 and $4,000, depending on the capacity. DIY wind turbines are not meant to cover the entire electricity demand of a standard home, and much larger wind turbines can cost $10,000 and more. 
How much does it cost to install a wind turbine at home?
If you plan on doing the installation yourself, a wind turbine's installation costs are only equal to the cost of the mounting materials and wiring. However, large capacity installations require professional assistance, costly transportation, and permitting fees which can draw up the total project costs beyond $50,000.  
Is a home wind turbine worth it? 
In many instances, a home wind turbine is worth it. If you are running a shop, or microgrid on your property, DIY wind turbines are a great way to introduce green energy without paying utility bills for the power. 
Although expensive upfront, large home wind turbines often pay for themselves in associated produced energy costs. Read more about the benefits of personal wind power.
DIY Wind Turbine Kit Installation
With today's user-friendly technology and an endless supply of resources on the internet, it has never been easier to install your own DIY wind turbine kit. Premium products that are worth their weight in green energy potential typically come with detailed instructions for mounting and wiring your turbine. 
To get a good idea of what you'll be working with, check out our DIY wind turbine kits towers and mounts. These simple systems are great for installing a wind turbine on your property (or your boat) without taking up too much space or adding unnecessary expenses. 
Do you need planning permission for a wind turbine?
Wind turbine planning and permitting requirements are extremely variable across different areas of the United States. If you are interested in a large wind turbine, there is likely going to be a building permit required, as well as many potential zoning issues. 
Small, DIY wind turbines are typically more able to "fly under the radar" if you are not going to significantly alter the property or attempt to tie into the grid. Of course, it is always a good idea to check your local HOA or land office before investing in a wind turbine. 
Can I install a wind turbine in my backyard?
Yes, in some areas of the United States, you can install a wind turbine in your backyard. It is also possible to combine a wind turbine with a PV solar electric system or other existing green energy production on your property. As we have mentioned above, there may be restrictions on wind turbine heights and capacities in some residential areas.   
The Best Wind Turbines for DIY Kits
Ready to get started generating wind energy? If you are looking specifically to install a wind turbine on your boat, please see our guide to the best marine wind generators. For use on land and at sea, we will showcase some of the best generators for DIY wind turbines below.  
Primus Wind Power Air 
When it comes to reliable wind energy generation, few brand names are more trusted worldwide than Primus Wind Power. The company manufactures high-efficiency, low-noise wind turbines that are backed by a 5-year warranty. 
For DIY wind turbine installations, Primus's products make it easy to safely generate electricity with the built-in alternator and torque control. Depending on how much power you are looking for, we recommend any of the following Primus products:
400 Watt Wind Turbine Generator by Nature Power
Next, we'd like to recommend the Marine Grade 400 Watt Wind Turbine Generator by Nature Power as a great, Primus alternative. Nature Power manufactures this wind turbine so that it is easy to assemble, yet still able to withstand winds of up to 110 miles per hour.
In terms of cost, the Nature Power wind turbine is considerably cheaper than most similar products on the market. With this in mind, this generator is great for first-timers looking to experiment with DIY wind energy. Nature Power's turbine is limited by its 2-year warranty, which is less than half the expected operating life of higher-quality generators. 
Silentwind Wind Turbine (400+ Watts)
Lastly, the Silentwind Wind Turbine is a great, high-quality turbine with many premium features. Namely, the Silentwind generator is specially designed to seamlessly incorporate up to 550W of solar power production. If your cabin or boat has solar already, this turbine is perfect for keeping the battery charged at night and during cloudy days. 
Beyond its solar capabilities, the SIlentwind turbine is a great product as a standalone system as well. High-quality parts, efficient energy production, and a 3-year warranty combine to make this turbine a great choice for long-term DIY wind energy production.  
Closing Thoughts 
We hope that this guide has cleared up some of the most commonly sought information regarding DIY wind turbine kits. For a lot of people, getting started with wind energy is much easier than anticipated. Feel free to contact us with any questions!
Let us know what you think about wind power for your home in the comments below!