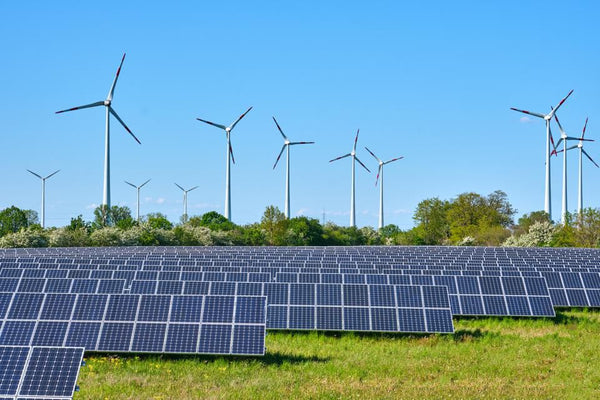 Biden's Clean Energy Plan May Usher a Golden Age of Renewable Energy
Biden has laid out the most comprehensive clean energy plan of any president in United States history. And it comes at the eleventh hour: On Biden's first day in office, the world will have 9 years left to prevent the worst consequences of climate change. Biden's Clean Energy Revolution and Environmental Justice plan intends to create a near-zero grid in 15 years, with aggressive economic and justice elements to boot, including:
Levy executive action to not only reverse Trump-era policies affecting the environment, but to create even more effective energy and environmental policy:
Methane pollution limits for new and existing oil and gas operations

Improved fuel economy standards designed to ensure all light and medium duty vehicles eventually reach zero emissions, as well as annual improvements to heavy duty vehicle emissions

Permanent protection of the Arctic National Wildlife Refuge and other contentious public areas staked for development during the Trump administration

A ban on new oil and gas leases on public lands and water



Put the U.S. on a locked path towards an economy that's net-zero by 2050 in accordance with the IPCC:

A major facet of this commitment will require carbon emitters to bear the full cost of their carbon emissions
Engage the world for a unified front against climate change:




The day he's inaugurated, Biden plans to rejoin the Paris Climate Agreement

Biden intends to rally a world

climate summit within his first three months in office. The goal is to persuade major emitting countries to enact rigorous national carbon reduction pledges, with special emphasis on preventing "destination economies" like China from becoming proxy polluters for countries with carbon reduction commitments




Unprecedented investment in clean energy and carbon-free development:




Invest $400 billion of government and private funds into clean energy over the next ten years

Establish a new federal agency focused on fast-tracking climate-friendly tech




Encourage clean tech throughout the U.S. economy:




Create pathways making cutting edge cleantech readily available for households and industry

Reduce building carbon footprint by 50 percent by 2035 by way of heating with electricity, boosting energy efficiency, and on-site clean energy generation

Work with governors and mayors to deploy over half a million new public charging stations for electric vehicles

Empower the agricultural sector to achieve net-zero emissions without decreasing earning ability




Establish federal agencies to

prioritize environmental justice:




Accountability for major polluters:




Demand public companies disclose climate-related financial risks and emissions associated with their supply chains

Require major emitters to bear the 

full cost

of climate pollution

Require the EPA and Justice Department to litigate new emissions requirements, and seek new legislation to hold large emitters responsible




Create 10 million jobs protected by competitive wages and union representation to buffer against changes in the economy resulting from climate change




Recognize that fossil fuels have played an irreplaceable role in building the United States – from

fueling the Industrial Revolution to winning world wars to improving

quality of life for millions:




Help fossil fuel workers transition to well-paying clean energy jobs while ensuring support for communities disproportionately affected by fossil fuel extraction



The most ambitious tenant of Biden's environmental plan is his commitment to a near-zero grid in 15 years. The plan was initially criticized for being too ambitious, but energy and policy wonks from across the political spectrum are beginning to recognize that rapid decarbonization of the grid is not only possible, but favorable.
A recent study by the University of California at Berkeley suggests Biden's 15 year near-zero energy plan isn't only feasible, but could lower wholesale energy prices 13 percent by 2035. In addition, it will spur a new and thriving industry built on clean power, and avoid $1.2 trillion in health and environmental costs associated with fossil fuels.
And this reality doesn't have to be achieved solely with regulatory strong-arming: History shows that when clean energy mandates are enacted, states react, especially when renewable prices nosedive.
Days after major news networks called the election for Biden, renewable energy advocates were quick to voice their excitement.
"President-elect Biden's plan to combat climate change enables our industry to create hundreds of thousands of well-paying jobs across the country," said Abigail Ross Hopper, president and CEO of the Solar Energy Industries Association (SEIA) in a November press release.
The SEIA will pursue collaborative progress with the Biden-Harris administration, working with its clean-energy friendly campaign platform. The SEIA has asked the newly elected administration and Congress to enact several policies and executive actions designed to foster greater growth in the solar industry, with three priority focuses:
Develop aggressive clean energy targets and carbon policy

Invest

in infrastructure and labor needed to support a clean energy economy

Ensure clean energy is accessible and competitive




Banking on the fact that renewable energy enjoys overwhelming public support and the strong signals coming from the Biden-Harris administration, Hopper has faith the coming decade will see unprecedented growth in renewable energy:
"Now is the time to take action to generate economic opportunities for Americans in a way that promotes competition and addresses the climate crisis," said Hopper.