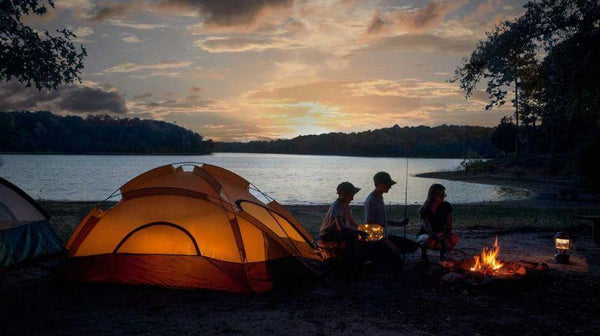 Must Have Solar Gadgets For Your Next Camping Trip
If you're planning a camping trip this year, you're not alone. According to the 2017 North American Camping Report, an annual independent study supported by Kampgrounds of America, Inc., (KOA) an estimated 13 million U.S. households plan to camp more in 2017 than they did in 2016. More than 1 million new households have started camping each year since 2014. Millennials are driving this growth as they take to the outdoors in greater numbers, and they have no intention of letting up.
Some of the most exciting products that utilize solar power are ones that have specific application for the great outdoors and camping experiences. So, the next time you pack up and head out for an adventure in the wilderness, consider adding one of these following products to your equipment purchase list:
Solar Flashlights
If you arrive at your camp spot and it's after dark, a flashlight is a necessity. And really, any time you need to step out of your tent at night, you are going to need a good flashlight. There are a lot of different types and styles of solar-powered flashlights. Solar power makes it easy to have the flashlight you need without concerning yourself about batteries. Depending on your needs and budget, there's a lot to choose from.
Where's the flashlight? Did you drop it? Here's a flashlight that you can clip onto your keyring so you always have it as soon as you exit your vehicle or you can put it on your backpack or belt. Even if you aren't camping, it's a great gadget to have for emergencies at night. If there wasn't any sun that day, no problem. Just use the hand crank to generate power to light your flashlight and path:
We understand that you are a connected person. If you want to share your camping photos and selfies online but you're worried about your phone dying, here's a flashlight device that you absolutely must have the next time you go on a camping trip. It's not just a flashlight, either. It's also a solar-powered radio for weather emergencies and it's a charger for your phones. Yeah, it's a cool device and will keep you connected online no matter where you decided to pitch your tent. Again, if there wasn't any sun that day, no problem. You can still use the hand crank to generate power to light your path and charge your phones and get those awesome photos online where your friends can see them. This product is a great item to have for any emergency preparedness as well as for camping trips.
If your plan to camp includes being near water, you'll want to consider purchasing a solar-powered flashlight that's also a waterproof flashlight. If you're fishing a stream or walking on the beach and you drop the flashlight into the water, this model will float and still have power to light your way back to the camping spot. Here's a great product that is not only waterproof, but the solar charge lasts for years, so if you want to store it in the glovebox of your vehicle, it will stay charged in case of emergencies.
Solar Powered Mosquito Repellent
Do you love camping but hate the bugs that go along with being in the great outdoors? Here's a great solar-powered gadget that repels mosquitoes PLUS includes a compass to help keep you on the path while you're hiking or camping:
Solar Powered Fire Starter
No camping trip would be complete without a campfire, but sometimes you need a little help getting the fire going, right? You will amaze your camping friends with this gadget that uses the power of the sun to get your kindling and fire going, or you can use it to light your cigarette or cigar. This solar gadget needs bright sunlight to work (it doesn't come with backup batteries to work at night), but the affordable price still makes it a great novelty gift for yourself or a friend.