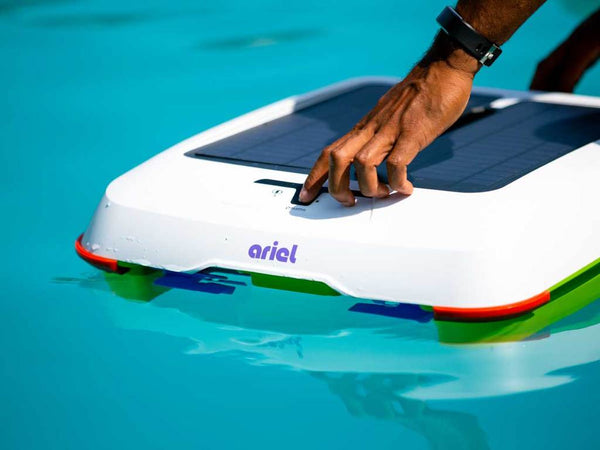 Solar Breeze Ariel | Solar Powered Pool Skimmer Full Review
On a nice sunny day, there is nothing better than enjoying an afternoon relaxing at the pool. A clean pool, that is. 
When it comes to taking care of your pool's conditions, natural debris and routine cleanings can be both time-consuming and expensive, which is why people are constantly looking for new ways to decrease the time, energy, and maintenance costs and considerations. 
Today, Solar Breeze has released the Ariel, an automatic pool cleaning robot that is designed to keep your water clear of debris using nothing but the power of the sun. With a free source of energy and automatic cleaning, what's not to like? 
What do we think of the Solar Breeze Ariel?
We previously mentioned the Solar Breeze Ariel in our complete guide to solar pool cleaners,  after becoming interested in the product as soon as it was announced. Now that we've been able to test it out in ordinary operating conditions, all we can say is that the Ariel does exactly what it is designed to do. 
If you have a pool that requires weekly maintenance from leaves, debris, and other surface buildups, then this will become a thing of the past with an automatic cleaning system. While older "pool Roombas" required frequent charging or battery replacement, the Solar Breeze Ariel is effortless, all powered by the same sun that causes your tan lines.
For those that can afford the luxury, this device will likely pay for itself in terms of time and effort saved on manual pool skimming. Plus, the Solar Breeze Ariel negates the use of a built-in filtration system, saving property owners on energy costs with substituted solar power. Click here to see our price for the Solar Breeze Ariel. 
About the Solar Breeze Ariel
The Solar Breeze Ariel is the American manufacturer's follow-up to the Skimbot Solar Pool Cleaner. New for 2021, the Ariel is an impressive follow-up, helping Solar Breeze quickly become one of the most recognizable brand names in this unique niche market. Below, we will outline the specifications, features, pros and cons of the Solar Breeze Ariel solar pool cleaner. 
Product Specifications
Water temperature operating range:  40°F to 130°F 

Salinity tolerance: Up to 6,500 ppm

Speed: 10-20 feet/minute

Battery Life: 10 hours on a full charge

Filter size: catches debris as small as 200 microns

Manufactured in: US
Key Features
More than anything else, it seems that the Ariel pool skimmer was built with the customer in mind. The device is extremely user-friendly, looks sleek, and is also very durable. With a tough outer casing and built-in safety controls, there is very little to worry about when moving, storing, or operating the Ariel. 
Runs on Sunlight: The most important thing about the Solar Breeze Ariel is its total operating costs of zero dollars and zero cents per month. Using free solar electricity, the Ariel is grid-independent, and will never incur the ongoing costs of grid-tied pool filtration systems. 
Motion Sensing Movement: Much like a Roomba, the Ariel is built with motion sensors to help navigate around edges, open areas, and large objects. The Ariel travels at speeds near 10 to 20 feet per minute, slowly navigating around any pool's features, toys, floats, and guests. 
No Cords Attached: With its built-in solar panels, you never have to manually recharge the Ariel, simply set it out in the sun. The waterproof design has no ports or cords and thus is less prone to damage than traditionally charged vacuums and cleaners. Of course, the Ariel charges itself while in use!
Set it and Forget it: To operate your Solar Breeze Ariel, it is literally as easy as pushing a button. The device is designed to be autonomous, only requiring occasional debris dumps from the easy slide-and-glide tray. Simply dump the collections into a garbage bin and let the Solar Breeze Ariel do its thing again! 
Warranty 
The Solar Breeze Ariel comes standard with a 1-year limited warranty through authorized dealers and retailers. For complete coverage details on the Solar Breeze Ariel, please see the manufacturer's limited warranty information. Upon your purchase, we recommend that you register your Solar Breeze Ariel warranty as soon as you receive your device.  
Value
At over $500 to purchase, the Solar Breeze Ariel may be quickly ignored by cost-conscious pool owners. Although we will admit it is a bit of a luxury item, it is easy to see the value of the Ariel against the time, effort, and utility costs of routine pool filtration and cleaning.
For eco-conscious consumers looking to ride the next wave of green energy savings, we highly recommend the Solar Breeze Ariel and believe that it is well worth its investment costs. 
Solar Breeze Ariel Pros
Charges with free solar energy

Very little maintenance required, occasional easy debris dumping

Durable, waterproof design

1 year limited warranty

10 hours of battery operation without sunlight

Easy operation, one-button functionality 
Solar Breeze Airel Cons
A luxury item with the price tag to match

Does not remove large objects from the pool

Limited one year warranty 
FAQ
Before we wrap things up, here are a few helpful answers to some of the questions we hear most about the Solar Breeze Ariel and other robotic pool cleaners. 
Do robotic pool cleaners really work?
Yes, although they are a relatively new item on the market, most robotic pool cleaners do really work just as well as (and sometimes better than) ordinary pool cleaners.  Before purchasing a robotic pool cleaner, it is important to ensure that it is produced by a reputable manufacturer.
Can robotic pool cleaners be left in the pool?
Yes and no. Robotic pool cleaners are not designed to be left in the pool all day every day, and removing the devices from the water will help extend the expected product lifetime. Obviously, you should remove a robotic pool cleaner in the winter when temperatures drop below operating capacities. However, you do not need to worry if you've left the device in your pool overnight. 
How long do robotic pool cleaners last?
Depending on individual conditions, most robotic pool cleaners such as the Solar Breeze Ariel are expected to last between 4 and 6 years of ordinary operation. Solar pool skimmers should be used daily during peak debris seasons, and as needed for the rest of the year. 
Are robotic pool cleaners worth the money?
If it is powered by free solar energy, then yes, we believe that robotic pool cleaners are well worth the money. The Solar Breeze Ariel is a great product that helps you lower both your energy bills and carbon footprint with simple, fun, and effective operation. 
Final Thoughts
Are you still with us or are you and your solar panels too busy soaking up the sun? At Solar Us Shop, we love creative uses of renewable energy, and the Solar Breeze Ariel is one of the most convenient and innovative maintenance devices that we've ever had the pleasure of selling. 
Although it is not an all-in-one cleaning solution, the Solar Breeze Ariel saves pool owners the time, energy, or expense of routine maintenance all with the free energy of the sun. We highly recommend the Solar Breeze Ariel. 
Looking for an alternative to the Solar Breeze Ariel? Consider the Skimbot Solar Pool Cleaner, also made by Solar Breeze.