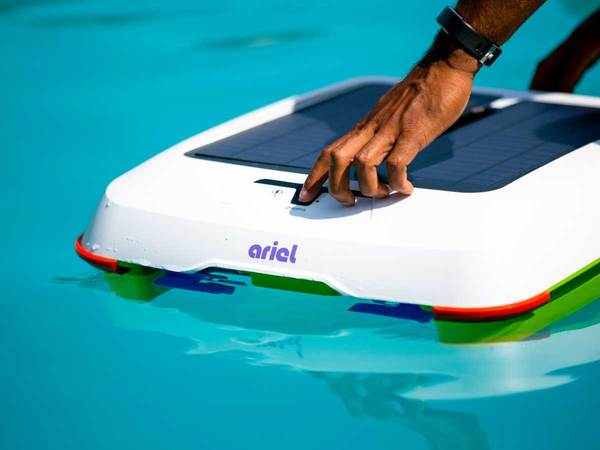 Solar Pool Skimmers: What They Are, How They Work, & What Is Best
Solar pool skimmers allow you to keep your swimming pool clean while using free renewable electricity harnessed from the sun. In addition to being an environmentally friendly solution, solar pool cleaners are also incredibly convenient, as today's top products can all be controlled with the push of a few buttons and stop you from hand skimming. 
At Solar Us Shop, we love using and testing any kind of product that incorporates solar energy into the device's functionality. And today, solar powered robotic pool cleaners are a great, new environmentally friendly product. In this quick guide, we will give a background on how solar pool skimmers work before recommending today's top models. 
What is a Solar Pool Skimmer? 
A solar powered pool skimmer is essentially a "Roomba" for your swimming pool. Solar powered pool skimmers are a relatively new kind of device, and may be called a variety of names. Common aliases include:
Solar Pool Cleaner

Solar Powered Pool Cleaner

Pool Skimmer Robot

Robotic Pool Skimmers 

Floating Pool Cleaners

And More
Of course, there are a lot of similar pool cleaning devices that are not run on solar power. In these cases, the products are typically powered by rechargeable or replaceable batteries. 
How does a Solar Pool Cleaner Work? 
Solar pool cleaners use very advanced technologies, but they are relatively simple to understand. Every device is powered by a battery, which is charged by a solar panel affixed to the top of the robot. 
Solar charged pool skimmers use motion sensors to detect the presence of a pool edge, wall, rock feature, or other large object. 
How Do You Use a Solar Pool Cleaner?
Using a solar swinmming pool cleaner is a lot like not using a solar powered pool cleaner, as much of the process can be completely automated. Simply put the device in your pool, turn it on, and enjoy. 
High quality solar pool skimmers can usually be programmed to follow a specific automatic cleaning schedule across the surface of your pool. Different operating modes can usually be toggled directly on the device or, in some cases, from a remote control or smartphone app. 
The best thing about solar pool cleaners is that you will never have to recharge them. Instead, solar powered pool cleaners recharge themselves every time direct sunlight hits the panels. 
How Well Do Automatic Skimmers Clean A Pool?
Solar automatic pool skimmers are much more expensive than your average pool cleaning net, so many people wonder whether or not they are worth it. To put it in perspective, however, high end solar pool cleaners are premium products that typically eradicate over 95% of all dirt and debris. 
Beyond this, some solar pool cleaners are also equipped to automatically chlorinate your pool. By clearing the surface and chlorinating your pool, automatic pool skimmers are great for swimming pool upkeep without any additional effort. 
Pros and Cons of Solar Pool Skimmers
Without a doubt, if you own a pool, then it will need to be maintained. For centuries, people have been using bags, brushes, poles, vacuums, nets, hoses and more to keep their swimming pools clean and tidy. 
Today, solar robot pool skimmers have many distinct advantages and disadvantages when compared to the available alternatives. 
Pros
Automatic Pool Cleaning, Little Upkeep Required

Runs on Solar Power or is Solar Charged (Free and Unlimited)

Saves You Money on Energy Bills 

Prolongs the Life of Pool Filters

Easy To Operate, Often By Remote Control or Push of a Button to easily remove debris

Some Can Also Be Charged With Batteries, AC or DC Electricity
Cons
May Get Caught Up on Foreign Objects In and Around the Pool

Not Universal, Some Models Can Only Be Used in Specific Types of Pools

Water and Electricity Can Be Dangerous Together

Rarely Cleans Very Small Particles or Very Large Objects 

Newer Products Have Not Withstood the Test of Time
What is the Best Solar Powered Pool Cleaner?
To answer the question, we've all been waiting for: we believe that the Skimbot Solar Swimming Pool Cleaner is the best solar pool skimmer on the market today. Although production has been delayed due to COVID-19, these high demand solar powered pool cleaners are set to be back on the shelves in January 2021. 
So what makes the Skimbot the best solar pool skimmer? Well, it's the first of its kind. The Skimbot is made of durable, lightweight material with built-in high efficiency solar panels. It can be controlled from any smartphone or tablet 
To read more about the power and capabilities of the Skimbot, you may visit our detailed Skimbot Solar Swimming Pool Cleaner product page. 
Another Great Solar Pool Skimmer
If you are looking for a premium solar powered pool cleaner, but still want to save some money on the upfront price, then you may want to take a look at the Ariel Automatic Pool Cleaner Robot. Due to its popularity and COVID-19 related delays, Solar-Breeze cleaners may be slated to become available in March 2021. 
Although it can still be considered a luxury item, the

Solar Breeze Ariel
 Pool Cleaner Robot
is priced below the Skimbot, making it a more affordable alternative. Don't be fooled, however, Solar-Breeze Ariel is still a highly capable device bound to keep any swimming pool as clean as possible, and we recommend automatic pool skimers to every pool owner.