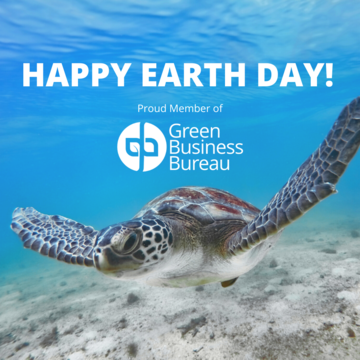 Celebrate Earth Day with Us!
Celebrate Earth Day with Solar Us Shop
April 22nd, 2022 is the 52nd annual celebration of Earth Day – how will you choose to spend it? 
As the most widely observed non-religious holiday on the planet, over a billion people are expected to celebrate Earth Day this year, with plenty of environmentally-friendly organized and spontaneous activities to choose from, all over the world.  
At Solar Us Shop, we believe that Earth Day is every day, which is why this is our favorite time of the year. To help people get into action and spend their time as effectively as possible, let's take an inside look at Earth Day 2022, highlight the year's theme, and showcase how everyone can get involved to create real environmental change.
So… what is Earth Day, anyway? 
But first, here is a quick history lesson to get up to speed. If you're eager to get out there and make something happen, here are 4 quick facts to know and share about 
the history of Earth Day
:
The first Earth Day celebration was held on April 22nd, 1970 in the United States.

Wisconsin Junior Senator, Gaylord Nelson, is credited with spearheading the effort.

By 1974, the US government implemented the Clean Air, Clean Water, and Endangered Species Acts.

Earth Day is now celebrated in over 140 countries around the world. 
So essentially, over the past half-century, a grassroots movement to turn attention to environmental issues created one of the largest and most important holidays in the world.
While many people actively participate in clean-ups, tree plantings, and other real-world activities every year, Earth Day is also a vehicle for positive environmental policy change. 
To help people, businesses, and other organizations focus on action-oriented observations of the holiday, EARTHDAY.ORG creates a central theme for each year's celebration with campaigns and programs designed to support specific efforts. 
Here is a glance at the last 20 years of Earth Day themes:
2002 - Protect our Home

2003 - The Water for Life Campaign

2004 - Be the Change You Wish to See

2005 - Healthy Environments for Children

2006 - Science and Faith

2007 - Be Kind to the Earth – Starting from Saving Resources

2008 - Trees Please

2009 - How Do You Get Around

2010 - Reduce

2011 - Clear the Air

2012 - Mobilize the Earth

2013 - The Face of Climate Change

2014 - Green Cities

2015 - It's Our Turn to Lead

2016 - Trees for Earth

2017 - Environmental and Climate Literacy

2018 - End Plastic Pollution

2019 - Protect our Species

2020 - Climate Action

2021 - Restore our Earth
Earth Day 2022: Invest in Our Planet 
As designated by Earthday.org, the official theme for Earth Day 2022 is "Invest in Our Planet" or #InvestInOurPlanet for those on social media platforms. According to the official press release, the theme was chosen to accelerate "solutions to combat our greatest threat, climate change, and to activate everyone – governments, citizens, and businesses – to do their part."
So what does it mean to invest in our planet? While you could take the theme literally and begin buying up solar energy stocks, there are truly hundreds of different ways to build a better future with smart purchasing decisions now. 
On a small scale, this could mean boycotting companies with unsustainable practices or choosing to purchase brands that are focused on minimizing their environmental impacts.
On the other end of the spectrum, Earth Day 2022 strongly encourages companies, governments, and other large organizations to set and meet ambitious goals related to Environment, Social, and Governance (ESG) criteria. 
Going green is no longer a choice. 
Thankfully, in today's consumer-driven marketplace, the world's smartest companies are realizing that there is no longer a choice between implementing sustainable practices and staying in business.
In terms of energy use, human rights, and everything in between, organizations that implement sustainability into their business model are much more likely to succeed and profit with worldwide support. 
What can you do on Earth Day 2022?
From the smallest household to the largest manufacturing facility, there are so many ways that you can #InvestInOurPlanet this Earth Day. With this year's theme, there are six main programs and campaigns that official Earth Day events will focus on in 2022. These include: 
And while education is one of the most important resources for a better future, getting out and taking action is typically how most people enjoy spending their Earth Days.
If you'd like to get involved in a hands-on celebration near you, there are hundreds of officially recognized Earth Day 2022 events hosted around the world. 
Between electronics collections, community clean-ups, and sustainable food-related activities, nearly every major city in the US offers some sort of organized Earth Day event.
Of course, if there are not any events near you or if you're unable to attend a local celebration, individuals can also celebrate Earth Day 2022 in a variety of ways on their own. 
While you're always welcome to get creative, here are a few things you can do to "Invest in Our Planet" this Earth Day: 
Plant a tree

Perform a household energy audit

Find ways to minimize plastic use in your life

Support an eco-conscious brand or product 

Or, tell your local government leaders to implement more sustainable practices  
With enough individual effort, nothing can stop the green revolution from being implemented to combat the effects of climate change.
As an inherently grassroots movement, the continued growth of Earth Day and its celebrations are very encouraging, and the global community should be very optimistic about the power of small and large changes brought forth by the holiday. 
Final Thoughts 
With spring in the air, Solar Us Shop could not be more excited for Earth Day 2022. We hope that this article has helped shine the light on the planet's greenest holiday and inspired you to #InvestInOurPlanet in some form or another.
If you're not sure to get started, feel free to browse our entire selection of renewable energy products. From lawn lights to pool cleaners and portable chargers, we're here to help you live as sustainably as possible with smart products designed for a greener future. 
Any questions? Check out our Solar Power FAQ or Wind Generator FAQs to learn more about how renewable energy products can fit into your lifestyle.