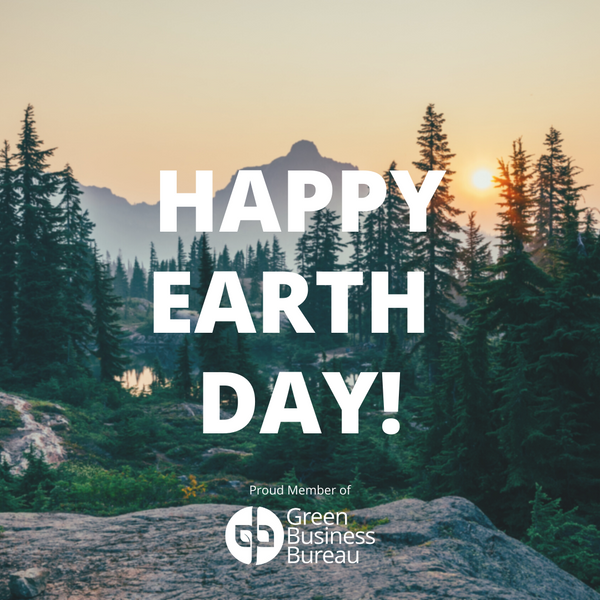 The History of Earth Day - And Why You Should Care
Happy Earth Day!  It's time to wear green, enjoy the outdoors, and talk about the environment. In an era where every day seems to have its own unique holiday (is there anyone else celebrating National German Beer Day tomorrow?), many people do not know enough about the history, legacy, and importance of Earth Day celebrations. 
At Solar Us Shop, we have always been strong environmental allies and proudly supply solar and other renewable energy products to help support the modern green revolution. In this article, we outline all of the important things that you should know about Earth Day to help you celebrate and fight for our very worthy planet.  
Earth Day Origins
After decades of pollution and environmental degradation, the idea for the first Earth Day was hatched in the late 1960s. Most historians point out the highly visible and damaging effects of the 1969 Santa Barbara, California oil spill as the true spark that ignited public action.
Now if you know anything about the late sixties, then there are a few things that come to mind: mainly peace, love, rock n roll, and iconic anti-war protests. Junior Senator Gaylord Nelson of Wisconsin recognized the potential of these protests and hoped to infuse an environmental message into the young and powerful revolutionary energy. 
The First Earth Day 
So on April 22nd, 1970, a coast-to-coast environmental protest and teach-in led by Senator Gaylord Nelson marked the first official Earth Day Celebration. The national grassroots campaign was started with newspapers, mailers, and magazine space asking for people to participate.  And they did. 
In fact, it is estimated that 20 million people celebrated the first Earth Day, which was nearly 10% of the US population at the time. Many of the campus teach-ins were organized by a national team of 85 individuals led by the activist Denis Hayes. Independently and locally, many more individuals took to the streets, parks, and public speaking areas to help defend the environment. 
Direct Impact from the First Earth Day
After 150 years of unregulated industrial development, the first Earth Day celebration and protest resulted in a tremendous amount of direct action for the environment. By the end of the year 1970, the United States government formed the Environmental Protection Agency (EPA) and passed a few new laws. 
Within four years of the first Earth Day, the following environmental laws were put into place by the US congress: 
National Environmental Education Act,

The Occupational Safety and Health Act

The Clean Air Act  

The Clean Water Act  

The Endangered Species Act 

The Federal Insecticide, Fungicide, and Rodenticide Act 
Not bad, right? As you can see, the first Earth Day celebration was one of the most effective demonstrations in environmental history. With the passing of these important acts, many endangered species and at-risk communities have survived and lived better lives over the past 50 years. 
Earth Day Legacies 
Although Earth Day started very strong, the celebrations and movements have shown no signs of slowing down anytime soon. 20 years after the first protests Denis Hayes was employed again, but this time to spark Earth Day celebrations in over 140 countries around the world. 
As it turns out, globalization makes plenty of sense as the celebration is called "Earth" Day after all. The 1990 international Earth Day was one of the leading factors in the development of the 1992 UN Earth Summit in Brazil.
Since then, Earth Day celebrations and protests have geared their focus to take action on global warming, climate change, and access to clean renewable energy and water for all citizens of the world. 
How to Celebrate Earth Day  
Now that we're up to speed with how it all got started, let's think about present and future Earth Day celebrations. Around the world, Earth Day is the most widely celebrated secular holiday on Earth, so you are free to spend the holiday any way (and anywhere) that you would like. Below, we outline four of our favorite ways to celebrate Earth Day every year. 
Post All About It
Earth Day began as an event centered around knowledge and action, so the best way to celebrate it is simply to carry the torch forward. Either on social media, in your personal friend circle, or in a public area, one of the easiest and most effective ways to celebrate Earth Day is simply to post and talk about it. 
Not sure what to say? There are plenty of great articles that showcase powerful images of Earth Day celebrations to share from all around the world. If you'd like to find a new environmental mantra that resonates with you personally, feel free to read our Top Ten Energy Conservation Quotes or Top Ten Wind Energy Quotes for a bit of inspiration. 
Plant a Tree
Although Arbor Day is just around the corner at the end of the month, Earth Day is still just as good a day as any to plant a tree. With spring weather finally emerging across the United States, planting a new tree, bush, or shrub is one of the most rewarding things you can do to celebrate Earth Day this year. 
Clean Up Your Neighborhood
In order to improve your local environment and also get a little bit of exercise, clearing up your neighborhood is one of the best ways you can take action in your community on Earth Day.
Neighborhood cleans can be operated solo or organized as a part of a larger group and celebration.  It is very easy to get started with a cleanup, as all you need is a trash bag, a trash grabber, a good pair of walking shoes, and hopefully some sunscreen! 
Make a Donation
If you don't have a lot of time on your hands but still want to be a part of the celebration, making a donation is a great way to spark positive change for the environment.
While there are essentially an infinite amount of charities, causes, and organizations that could use some extra financing, we recommend researching the best environmental charities that align with your mission. 
Earth Day FAQ
Of course, the best way to learn anything is to ask questions. So, if you're too busy laying in the grass or fighting for the environment to read about the full history of Earth Day, here is a bonus, rapid-fire round of frequently asked Earth Day questions. 
What day is Earth Day?
Although the day of the week changes annually, Earth Day is always celebrated on April 22. At Solar Us Shop, we like to believe that Earth Day can be every day.  
When did Earth Day begin? 
The first official Earth Day celebration was held on April 22, 1970. Earth Day began in the United States and has since spread to over 190 other countries. In its inception, Earth Day was organized as a series of guerilla campus teach-ins to increase awareness for global water and air pollution. 
How did Earth Day start?
Earth Day started as a reaction to the world's environmental decline in the 1950s and 1960s.  After a large oil spill near Santa Barbara, California, a movement spearheaded by Wisconsin Junior Senator Gaylord Nelson started the proceedings which led to the first Earth Day event.
Why was April 22nd chosen as the official date for Earth Day?
For the first Earth Day teach-in, April 22nd was chosen as the official date because it fell in between spring break and finals week for most colleges and universities. This was a period in which the highest percentage of students were on campus to maximize participation. 
How large was the first Earth Day celebration?
It is estimated that over 20 million people demonstrated in US cities across the country on April 22, 19770 for the inaugural Earth Day celebration. By 1990, more than 200 million people would be celebrating Earth Day all over the world. 
Why is it important to celebrate Earth Day?
While many of today's Americans have already celebrated Earth Day, it is important to remember its often forgotten origins. The first Earth Day marked one of the biggest event sin US environmental history, catalyzing a movement to enact real positive change for human health and quality of life. 
Final Thoughts
With the entire planet at stake, Earth Day is a celebration that has the potential to unite every person in the world. Even if you're not on Capitol Hill helping decide critical policy changes, small actions, and continued activism are both great ways to effectively spend your Earth Day with the same spirit and intent of the initial movement. 
Feel free to go green with any of the clean energy products in our Solar Us Shop.