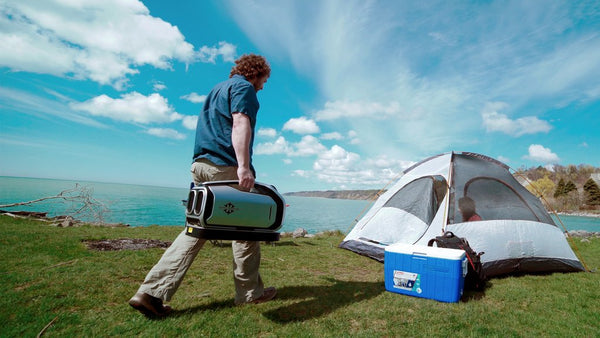 Zero Breeze Mark 2 Review: Complete Product Guide
In the heat of the summer, the Zero Breeze Mark 2 makes it possible to cool down anywhere life takes you with completely portable air conditioning. As one of the newest and most exciting products in our shop, we have decided to break down the features and benefits of this handy device in a complete Zero Breeze Mark 2 review. 
Solar-us-shop is an environmentally minded retailer of small, energy-related consumer products. Below, we will outline the specifics, pros, and cons of the Zero Breeze Mark 2 to help our readers determine whether or not the product is right for them.  
Our Quick Assessment
To save you some time and energy, we will get straight to the point: this product is great for those who need it. After getting to know the Zero Breeze Mark 2, we can firmly say that this device is really cool (pun intended), and built with all of the right features to make it one of the most portable AC devices on the planet. 
For those that can afford the hefty asking price, we strongly believe that the Zero Breeze Mark 2 is well worth every penny for the right consumer. Specifically, this compact and lightweight device is great for camping, RVs, boats, or small-scale remote air conditioning in any room or space.  
History and Background
Although the company got off to a somewhat rocky start, Zero Breeze is quickly making a name for itself in the consumer electronics industry around the world. The company's first product, the Zero Breeze Mark 1, was a crowd-funding success story that yielded a not-so-successful product launch. 
With a new and improved design, Zero Breeze has released the Mark 2 after listening to consumers and optimizing the product based on real feedback. The Zero Breeze Mark 2 continues the company's goal to provide the ultimate portable, camping air conditioner. 
Product Specifications
All in all, the Zero Breeze Mark 2 takes up about as much space as an old boombox speaker or a handheld vacuum cleaner. The unit itself has the following dimensions:
Length: 20"

Width: 10"

Height: 11"
Extending from the Mark 2's main console, detachable cold extension pipes can be added to help deliver cold air or displace warm air in small spaces. Altogether, the unit weighs 16.5 pounds and can be easily carried with the built-in, durable handle. 
Features
There are many aspects of the Zero Breeze Mark 2 that make it well worth its asking price. Here are a few of the included features that make this portable air conditioning unit one of the strongest of its kind. 
Insanely fast cooling: More than anything, the Mark 2 is powerful despite its convenience. It can cool down any small space by 30F degrees in just 10 minutes, with built-in dump protection to keep itself running efficiently in various environments.
Its performance is even more surprising when considering that the unit has an operating noise level of 52 dBA, roughly equivalent to an ordinary fan.
3 ways to run: With the included wall charger, it is possible to continuously operate your AC unit indoors for extended periods of time or take it with you when you are headed out the door! 
Once you've exhausted the battery life outdoors, it is even possible to charge the Mark 2 with solar energy. Solar panels are not included with the purchase, but feel free to browse all of our solar-powered devices.
Built to suit: After improving upon the original Zero Breeze Mark design, the company has created a very user-friendly appliance built to suit the needs of the average consumer.
The Mark 2 has a digital temperature display to help showcase its performance and can be adjusted to sleep mode for extended operating periods at a lesser intensity and noise level. 
Warranty 
Solar Us Shop customers are entitled to Zero Breeze's 1-year manufacturer warranty. Part for part, this includes 12 months on the unit itself, the battery (charge cycle <200 times), and the power adapter. Costumers are guaranteed 6 months for normal operations of the exhaust hoses, cold wind extension ducts, remote controller, front filter, and rear filter. 
For additional information from the manufacturer, please visit the Zero Breeze After-Sales Service Policy page on their website to view the Mark 2's limited warranty details.  
Value
Overall, we feel that the Zero Breeze Mark 2 is well worth its value for those in search of a truly luxurious, portable air conditioning.
There are many other "portable" air conditioners on the market today that are more powerful and less expensive than the Zero Breeze Mark 2, but most of those units need to be wheeled in due to their excessive weight. As a lightweight and convenient solution, the Mark 2 will pay for itself with comfort wherever you decide to take it. 
Zero Breeze Mark 2 Pros
Can be charged with solar power (solar panels not included)

Very lightweight and easy to carry

Simple to use, no water or ice necessary

Fast cooling with heat dissipation pipe

Many different uses and applications

Built-in dump protection

USB and DC charging ports

Sleep mode for low noise and extended hours

Additional battery packs available for extra runtime
Zero Breeze Mark 2 Cons
Somewhat limited battery life (3-5 hours on a full charge)

Expensive upfront cost

Can be loud on full power mode
The Best Uses for the Zero Breeze Mark 2
The possibilities are endless in terms of where you can take and what you can do with the Zero Breeze Mark 2. Once you pick it up in the heat of the summer, you may never put it down. 
Tent Camping
First and foremost, the Zero Breeze Mark 2 was designed to be a solution to unbearably warm camping conditions. Most people that have spent a summer night in the great outdoors know that tents tend to trap the heat of the sun and can create almost sauna-like conditions.
In parts of the world where ambient temperatures remain high overnight, like Texas, Utah, Florida, and other states, most people would rather sleep outside than in a polyester hot-box.
The Zero Breeze Mark 2 is perfect for cooling down small and family-sized tents in a matter of minutes. After a great day in the warm outdoors, nothing is better than stepping into the comforts of home in the middle of your campsite. Simply place the exhaust tubes out of the tent door, close your windows, and get ready to chill out. 
RVs, Vans, Trucks, Campers, and Small Cabins
For those of us that already enjoy the outdoors with the help of a roof over our head, a small portable air conditioning unit is perfect to keep cooling costs low with minimal spatial impact.
The Zero Breeze Mark 2 is small and quiet, which makes it hardly noticeable in an RV or small cabin. No matter where you are located, the solar panel adapter can charge your battery and cool down your space with free, renewable energy! 

Marine Uses
Headed out on the water? From fishing boats to private yachts, the Zero Breeze Mark 2 is a great way to deliver cool temperatures for day trips and overnight voyages on lakes, rivers, and the high seas. 
Room to Room Cooling
Don't forget! Although it can be taken anywhere in the world, you can also use the Zero Breeze Mark 2 to cool the space in the comfort of your own home.
For best results, this small AC unit should be isolated to one room at a time, providing a quick and efficient cooling solution for bedrooms, shared spaces, offices, and more. While powered by your wall outlet, the Mark 2 will retain its battery capacity in preparation for its next adventure, even if it is just to the backyard.  
FAQ
Before we wrap things up, here are the answers to some of the most commonly asked questions related to the Zero Breeze Mark 2. 
Does zero breeze really work?
Yes, the Zero Breeze Mark 2 portable air conditioner really works for rapidly cooling down the temperature of a small space. Although it may not be suitable for full homes or large cabins, the Zero Breeze Mark 2 is very effective as a truly portable air conditioning unit.
Is the Zero Breeze Mark 2 worth it?
If you need a small, portable air conditioning unit, then the Zero Breeze Mark 2 is absolutely worth it. While not everyone in the world spends a considerable amount of time in tents, RVs, or small cabins, the Zero Breeze Mark 2 is great for those spending a lot of time outdoors in warm weather climates.
What is the best portable AC unit to buy?
For camping, we strongly believe that the Zero Breeze Mark 2 is one of the best portable AC units to buy on the market today. Although there are many cheaper and more powerful portable AC units, those products are better suited for instances where the appliance is predominately stationary and only moved from time to time. 
Conclusion
There are few worse conditions to be in than a tight space and extremely warm temperatures. Thankfully, the Zero Breeze Mark 2 is perfect for rapidly cooling tents, RVs, cabins, and other small living spaces. If you'd like to enjoy the great outdoors with the comfort of cool air, then the Zero Breeze Mark 2 is great for bringing along, anywhere your adventure takes you.